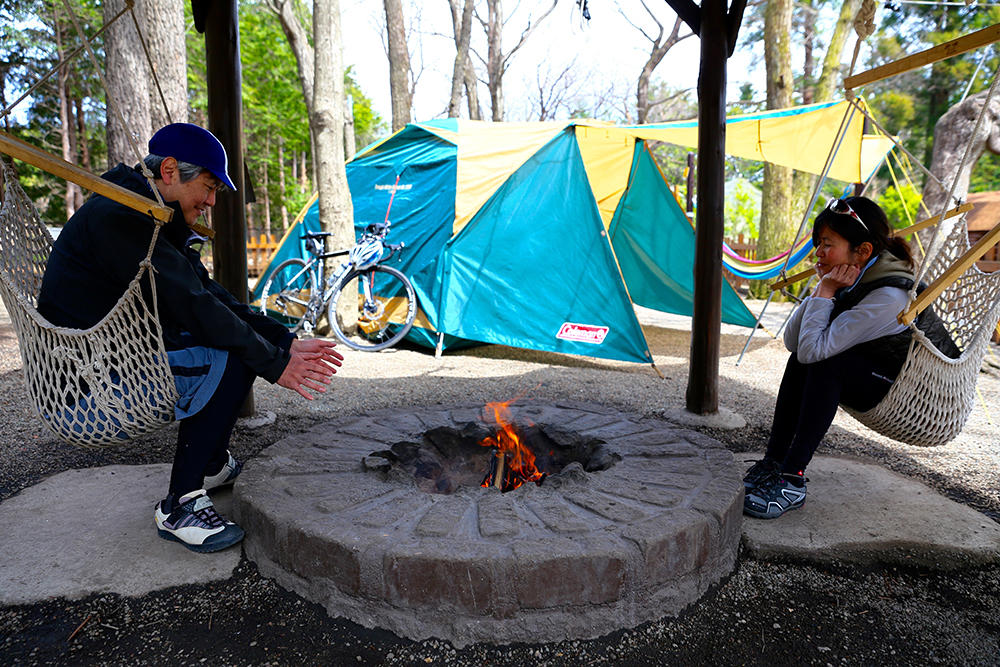 If you travel by bicycle, it is a luxurious play that you enjoy the outdoor at camp at night.
Camp & Cabins In Nasu Kogen, you can rent all bulky tents and camping equipment. This is increasingly attractive if you can run camping easily by bicycle without having big baggage.
Cyclists In Nasu area where many welcoming accommodations are gathered, a new choice of a campsite full of cyclists welcoming has been added.

Camp and Cabins Nasu Kogen is located near the center of Nasu Highlands and is easily accessible by bike everywhere.
It is unusual for facilities in Nasu, it is also a pleasant place to be in areas with low altitude that you can access without climbing a mountain.
When entering the gate the passage in the premises is a gravel bed. When traveling on a bicycle, slowly (under 10 km / h!) Wish to run carefully.

Accommodation is largely divided into camp sites where tents are stretched by themselves and cabins or bungalows where they sleep in a bedded building.
Camp and Cabins Nasu Kogen is different from other general campgrounds in that special equipment is provided for enjoying the outdoor "flame" easily for both campsite and cabin.
Let's introduce recommendation facilities respectively.
First of all, if you enjoy the open-air liberation unique to the campground, it will be a campsite as well.
Collaboration to set rented tent and tarp with partners and colleagues is one of the great pleasure of camping.

You can leave yourself in Brazilian hammock (rentable) and have a moment of relaxation to relax under the blue sky.
(Each camp site has a poll that can hang a hammock.)

Campsite FIREPLACE includes a roof Fireplace space with fireplace is available.
Setting a table or chair in the fireplace space in front of the tent is the completion of the living room with a fireplace.

Camp site FIREBOMBED, you can see the flame of the firefly (with your car!) easily and safely while being shaken by the chair hammock. It's such a luxurious time.

If you enjoy the atmosphere of the log house and barbecue etc more easily and comfortably, the cabin is recommended.
Country Cabin FIRING FIRE, a firebing ring and a barbecue grill are prepared in the grounded deck with a roof, and here also you can enjoy the firefight easily.

Also on the entrance pouch (wood deck), a longing (?) Porch swing. I often see it in American movies.
Bicycles can be placed inside the cabin, or placed on the porch, using a vertical cycling stand.

If it gets dark this street. Under the flame of a comfortable firefire and lantern, use a wooden box for a table or a chair to wild.

On the terrace with a large covered roof, connected to the cabin, a barbecue grill table surrounding the fireplace, and a bar counter on the L-shaped kitchen, just "Grandping" specification Country cabin TALKING.
Here, in addition to the 3 bed cabin, there is also a courtyard where you can set up a tent, so it will be perfect for group use.

Camp & Cabins In Nasu Kogen, if you order in advance, you can arrange delivery of a barbecue ingredient set made by a local well-known butcher. (Each person orders directly at a butcher. here .)

Eat and eat delicious meat and vegetables with "Country Cabin" talk "with friends who shared the ride of the day, drink, bloom in bicycle talks and" talk ", deepen the bond of ride companions You can do it.

In addition to the barbecue, is not it nice to be able to eat a full volume full-blown pot-fired pizza reasonably with a pizza house set in the center of the site?

Camp and Cabins When bringing a bicycle to Nasu Highlands, keep the bicycle in the cabin by using a vertically placed cycle stand both in case of campsite and case of cabin be able to.
In the cabin when staying in that cabin, in the case of camp sites, you can use the vacant cabin exclusively for bicycle storage.
Of course, the same is true for lodging on a simpler and more reasonable bicycle site than the ones introduced here.

When keeping a bicycle in the cabin for which the sole foot is prohibited, I want to remove the dirt attached to the tire.
For washing tires etc., a water supply with a shower hose installed beside a hot water kitchen located in the center of the premises is convenient.

Let's sweat by cycling in an open-air bath with a washing place installed in the premises (only on the evening of a specific day) or a coin shower open 24 hours.

Cycle wear that runs for a day and is covered with sweat, if possible, I would like to wash in the day.
A coin-operated fully automatic washing machine is installed opposite the coin shower booth. If you do wash and dehydrate here and then dry them on campsite or cabin, you can wear clean dry wear again the next morning.

Camp & Cabins Nasu Highland which is a "cyclist welcome campsite", of course, it also has an air pump with gauge for French valves and a tool exclusively for bicycles.

Adjustment of air pressure is perfect for further adventure ride the next day.