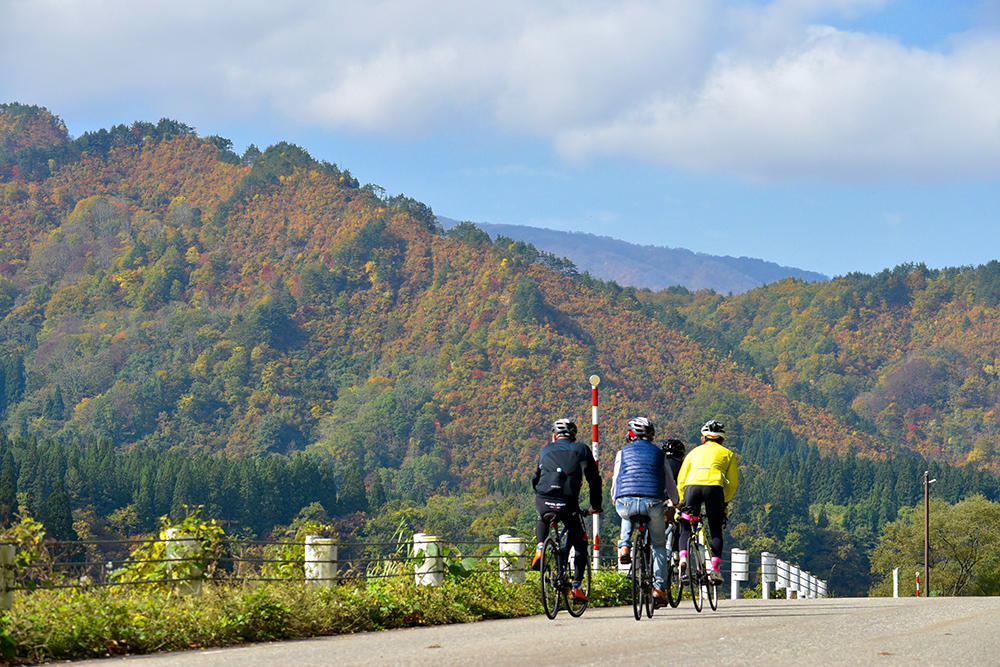 Tadami town, close to the prefecture's border with Niigata and the most remote part of Aizu, is famous for its autumn leaves that turns red and yellow in the mountains around the town. This is a cycle route where you can enjoy the autumn leaves in Tadami, as well as visit many sightseeing spots.
The starting and finishing point is Aizu Kawaguchi station on the JR Tadami line.
Because of heavy rains in 2011, there is a blockage on the Aizu Kawaguchi – Tadami section, therefore Aizu Kawaguchi station is the final stop for the train from Aizu Wakamatsu. On this route, you stop over at Tadami station, which is the departure terminal on the other side of the interrupted section of track. We pray that the lines will be restored soon. Tadami station is a tourist information center at the moment.
位於会津和新瀉縣的邊境、有個被山圍繞的只見町(村)、村落被紅黃鮮明的楓葉緊緊包圍,是當地出名的賞風景點,可以騎著自行車欣賞周圍的美景,放鬆身心也是此行程的重點之一。
JR只見線的会津川口駅是此形成的起點和終點。2011年的一場豪雨災害,造成会津川口站到只見站的路線停駛。目前此路線還有其它受損停駛的路線正在修復中,。(目前只有只見站可以接受觀光。)
Distance: 91km, Elevation Gain: 1,229m
---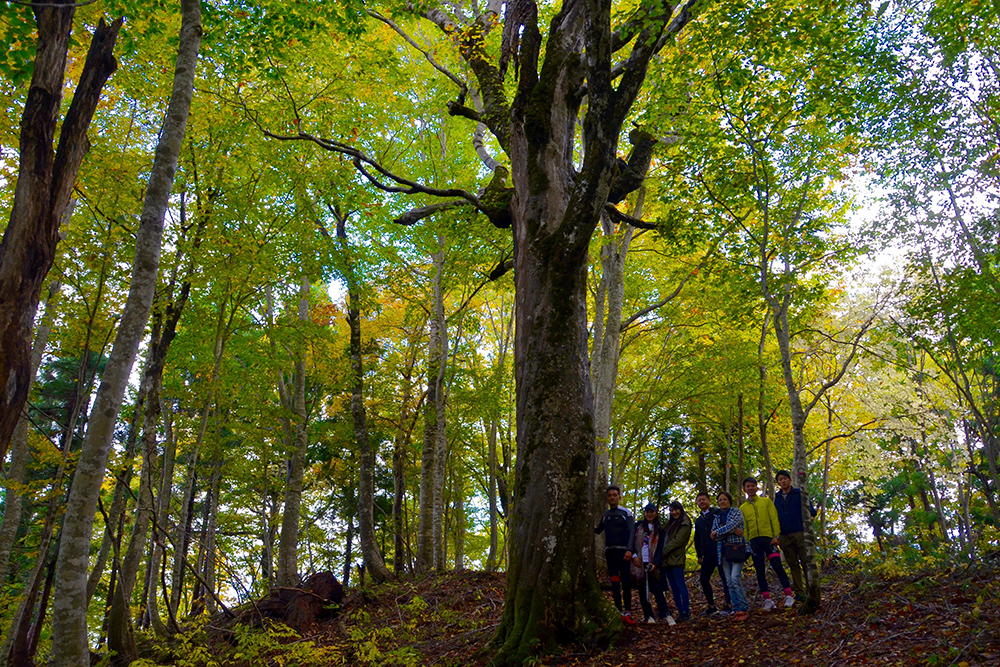 On the first half of the route, you leave the Tadami River once, and then go into the mountain. You park your bicycle at "Iyashi no Mori", which is near the highest point and we recommend you go on a light hike on this mountain, which covered in beech trees. The hiking round trip is 1.2 km.
前半段的路程會偏離只見川進入山裡,位於山頂附近有個可療癒心靈的森林,將自行車停放於此,推薦來個往返1.2km在森林中的慢走。
When you ride in the rural area along the river, you can see "Hasakake" (Hasakake is a way to bundle harvested rice plants that have been left to dry in the sun.)
沿著河川,田園行走中可看見已收割的稻米曝曬在陽光下的景色。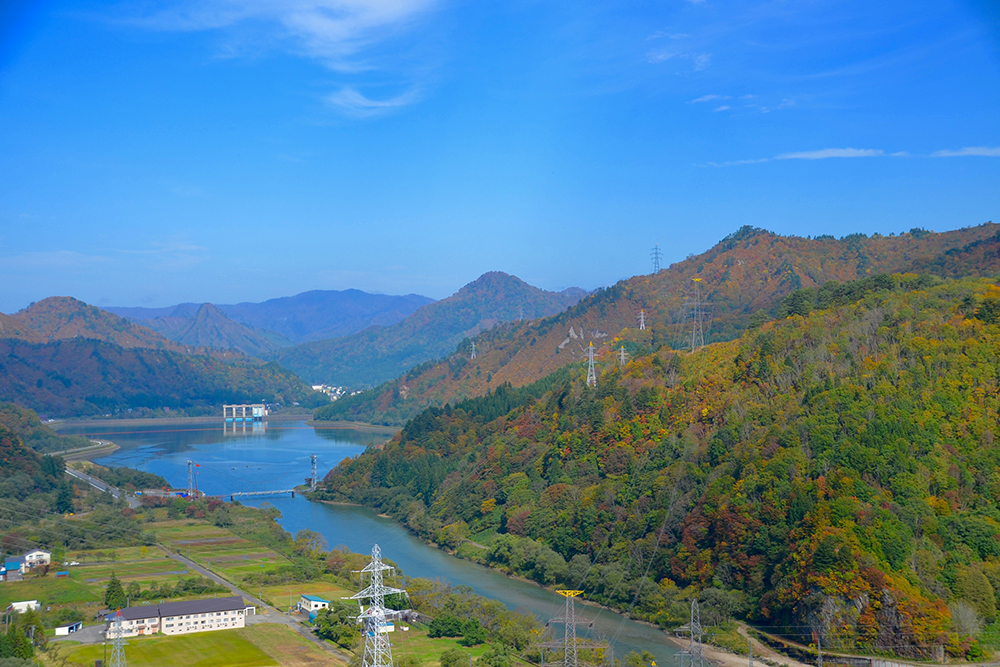 From "Tagokura Dam", you can have nice view of Tagokura lake right in front of your eyes and Tadami Lake below on the other side. Both are noted for their superb views of the autumn leaves in the mountains lined between the bodies of water.
從「田子倉水庫」上方、可遙望眼前的田子倉湖,往下遙望也能看只見湖,湖與湖間並排列著五彩繽紛的楓葉,也是旅程中的絕景之一。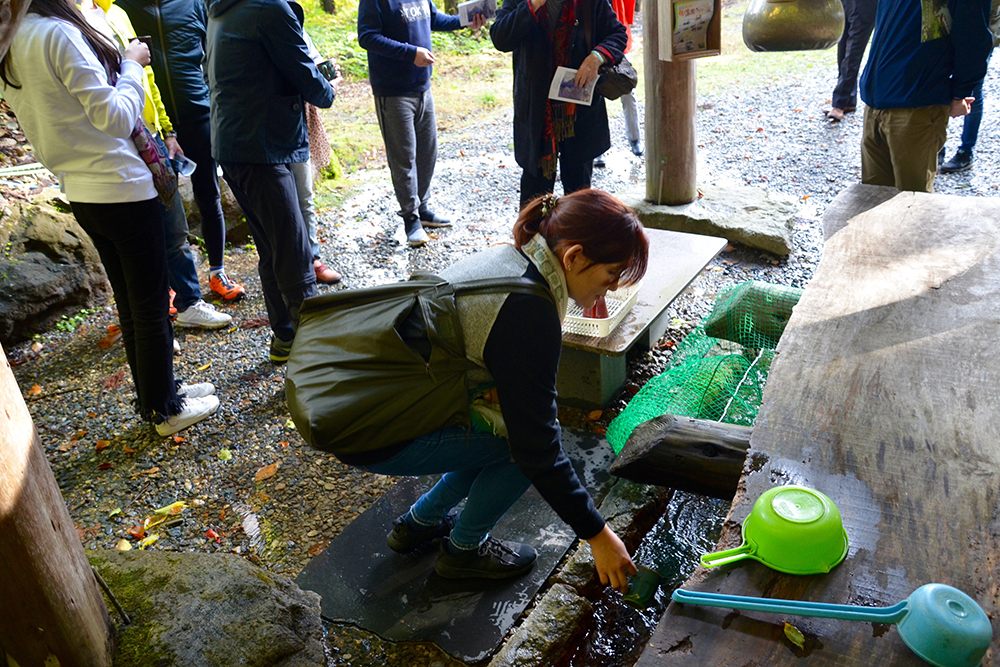 There is "Ooshio Tennen Tansan Sui" (Ooshio Natural Sparkling Water) on the tranquil road in the mountains area going from Route 252, and it is at a point of 75km of this route. This well is an unusual thing to have because it has natural semi-sparkling water and anyone can drink it.
出發大約75km時,從國道252號線進入一條寧靜的山路,山裡有日本全國稀有的「大塩天然碳酸水」、天然湧出的井水中含有微碳酸,可以自由飲用。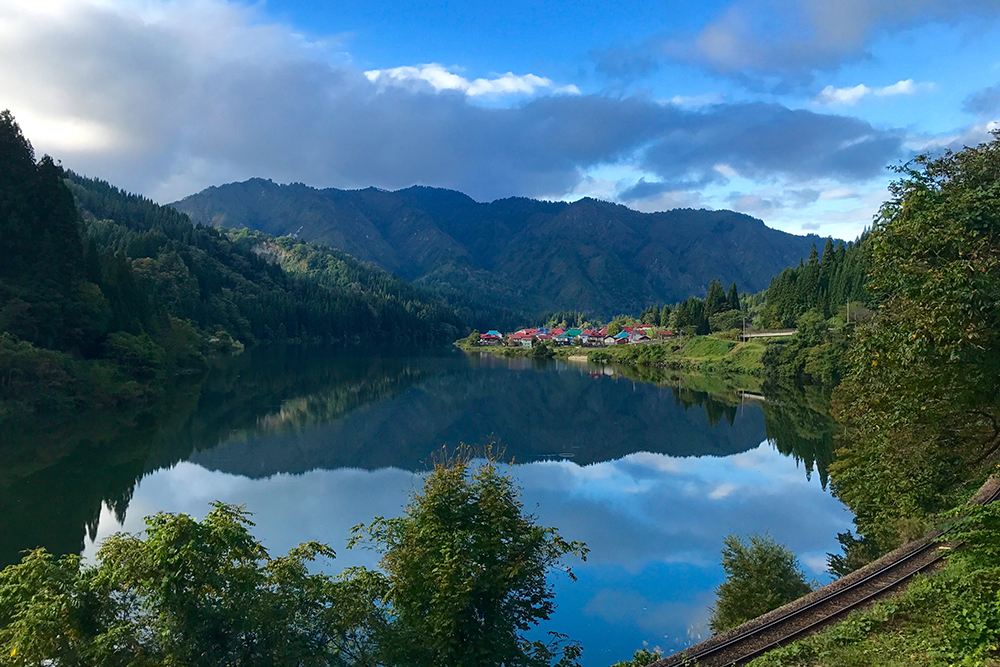 Before the goal, you go to viewpoint, which is 700 meters away (on the Aizu Wakamatsu side) from Aizu Kawaguchi station. Tadami River is a photogenic river, which flows gently and shows a view on the river face like a mirror. If the timing is good, you can take a photo with the trains on the Tadami Line.
快抵達終點前,大概在会津川口站700m左右(会津若松旁)有個美景。緩緩流長的像似鏡子般得透徹的只見川水面倒映著川旁的景色。(有時還能看見只見線路電車行駛中的倒映)此處是拍照留念的景點之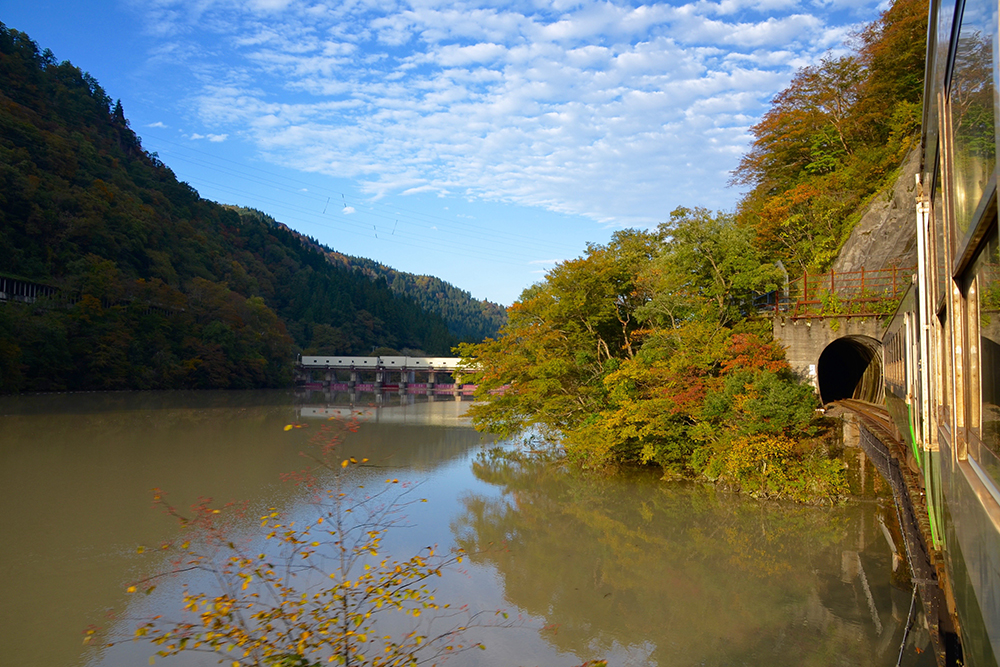 After you enjoy cycling, why not bring your bicycle "Rinko Style" on the way back. You can see special scenery from the train window on the Tadami Line, which runs near the river side. (This photo was taken after a typhoon, therefore the water is muddy, but the photo on the left side (if you are viewing this webpage via a smartphone, it is on the top) is a photo of what the river is meant to look like.)
滿足了自行車之旅後,回程可以搭乘只見線電車,欣賞從車窗看河面上倒影行進中列車的特別景象。(此圖為颱風過後混濁的只見川景色,左圖為(智慧型手機拍出的效果)平時清澈的只見川。)