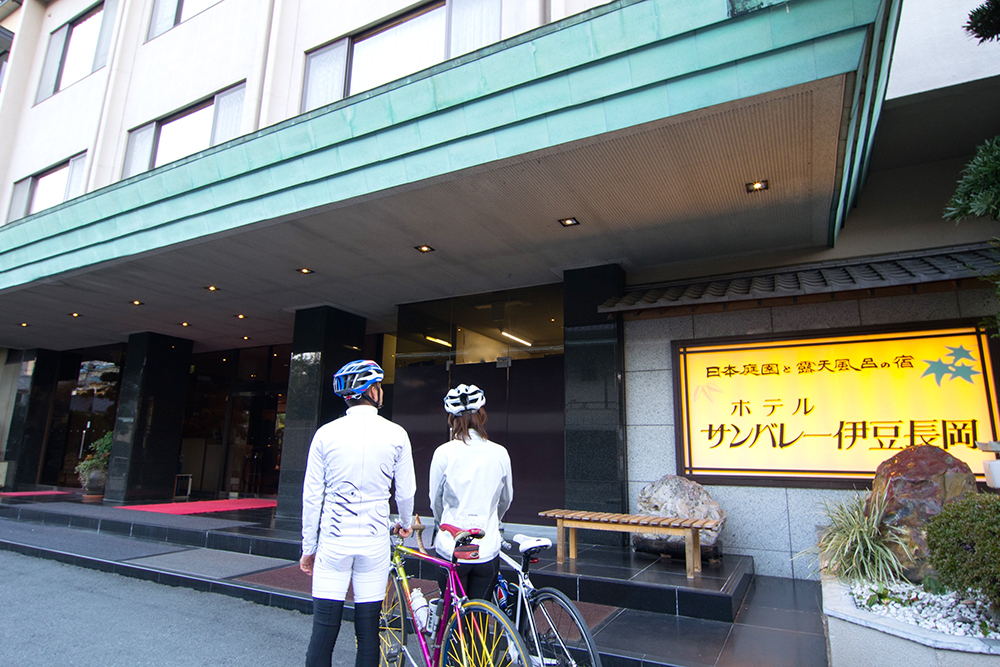 Sun Valley Izu Nagaoka with five distinctive pavilions at the entrance to Nakaizu, Izu Nagaoka Onsen.
Both are hot spring accommodations representing Izu Nagaoka featuring large baths in abundant hot springs, spacious and spacious rooms.
Now, all four buildings of Sun Valley Izu Nagaoka, excluding the buildings of business youth, have begun aggressive efforts as a "cyclist Welcome" welcoming cyclist lodging.
In all the rooms of the 4 buildings, you can bring your bicycle directly to your room.
Let's introduce each museum one by one.
Sun Valley It is the center of Izu Nagaoka, the main building with a large bath and dinner that can be said as a symbol, a wide variety of rooms. There is also a beautiful Japanese garden coloring the four seasons.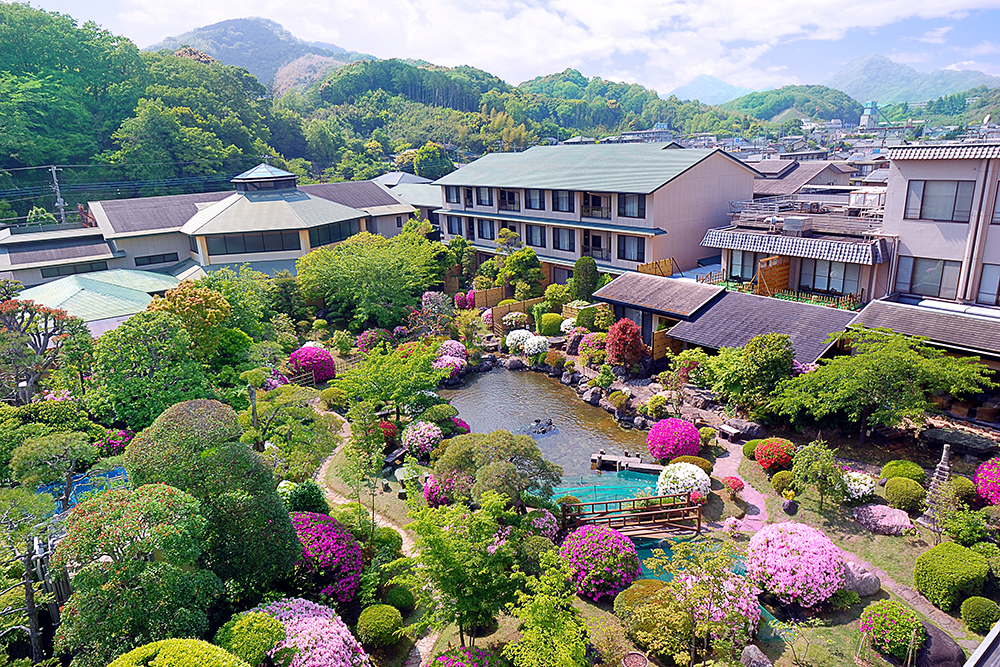 Before bringing the bicycle into the room, let's drop the dirt around the tire with a hose with a hose located beside the front entrance.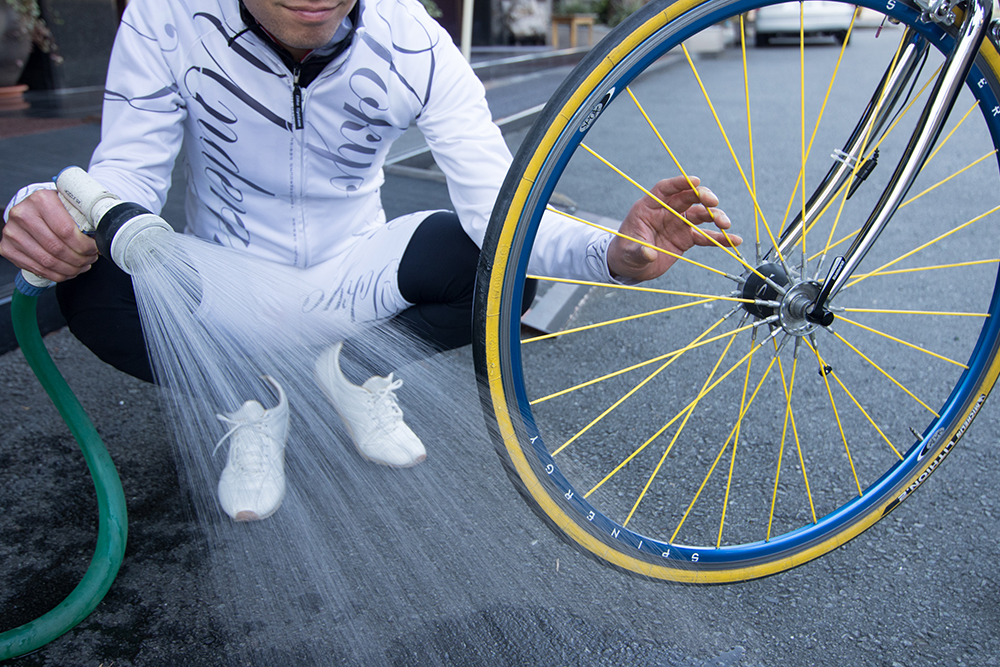 First of all, one of the largest special rooms "between flowing water" is a western-style twin bed type room facing the Japanese garden, with an inner hot spring of cypress with hot springs. Flooring (with floor heating), it is easy to put a bicycle in the room.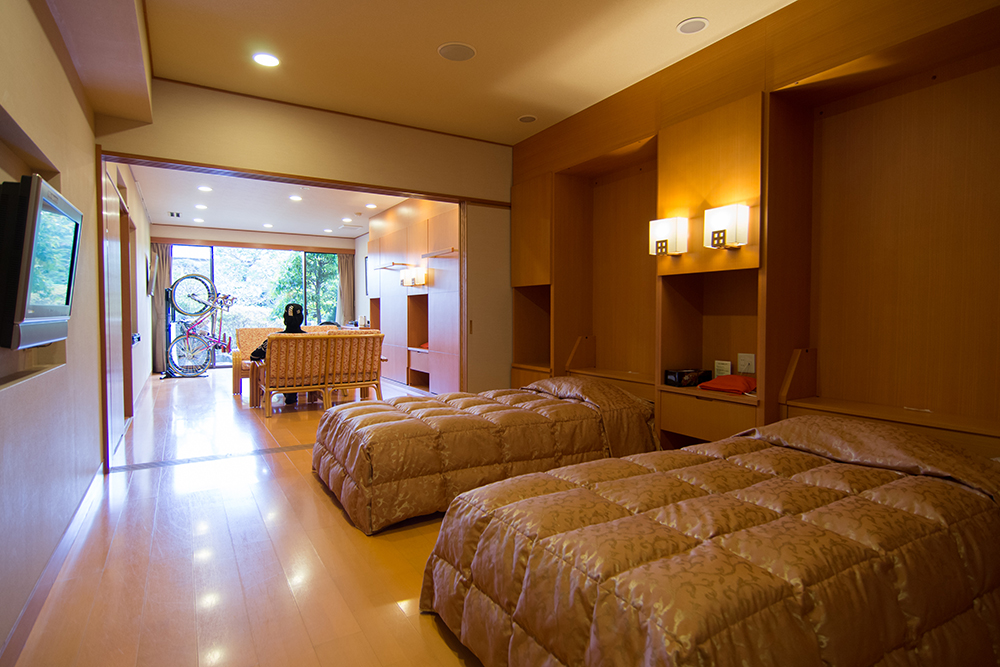 This really spacious room is fully equipped with a massage chair at the window that looks at the garden. With this, body care after ride is also perfect. You can easily enjoy the camping mood of the Masser Band's professional team.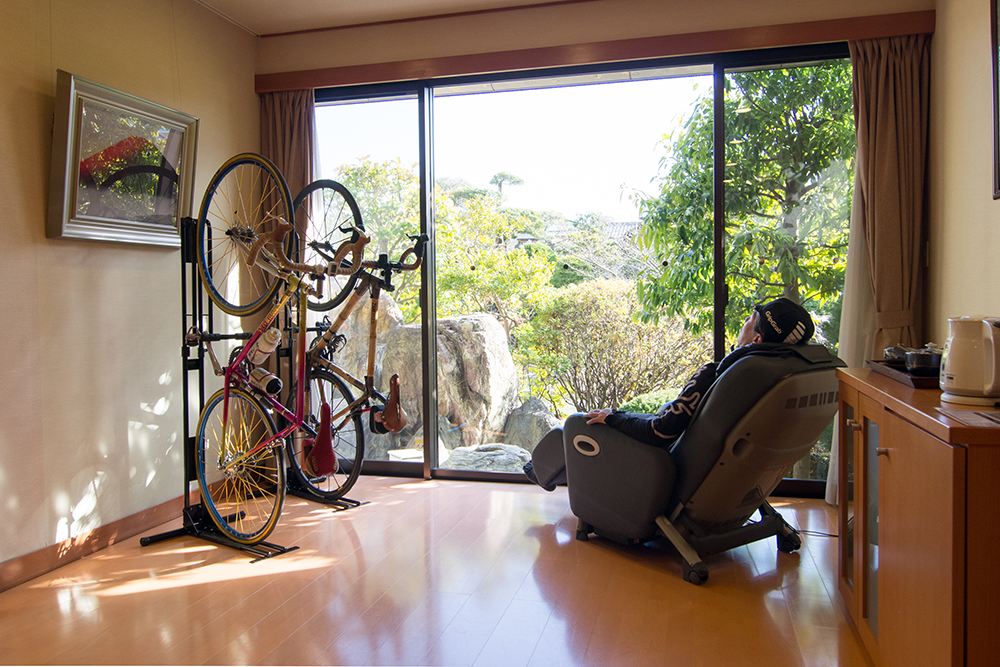 Next, in the Japanese-style room of "Ayamatei" with a private open-air bath (source spring hanging out) that put in as many hot springs as you want at any time.
It is comfortable to watch the Japanese garden on the terrace following the outdoor bath. Japanese-style room with Ryukyu Tatami floor is barrier-free, seat chair is gentle on the knees and waist type. Consideration for such thin points that survive the body of the guest is pleasing.
Also in this Japanese style room, if you use a vertical type stand you can put a bicycle without getting distracted and obvious.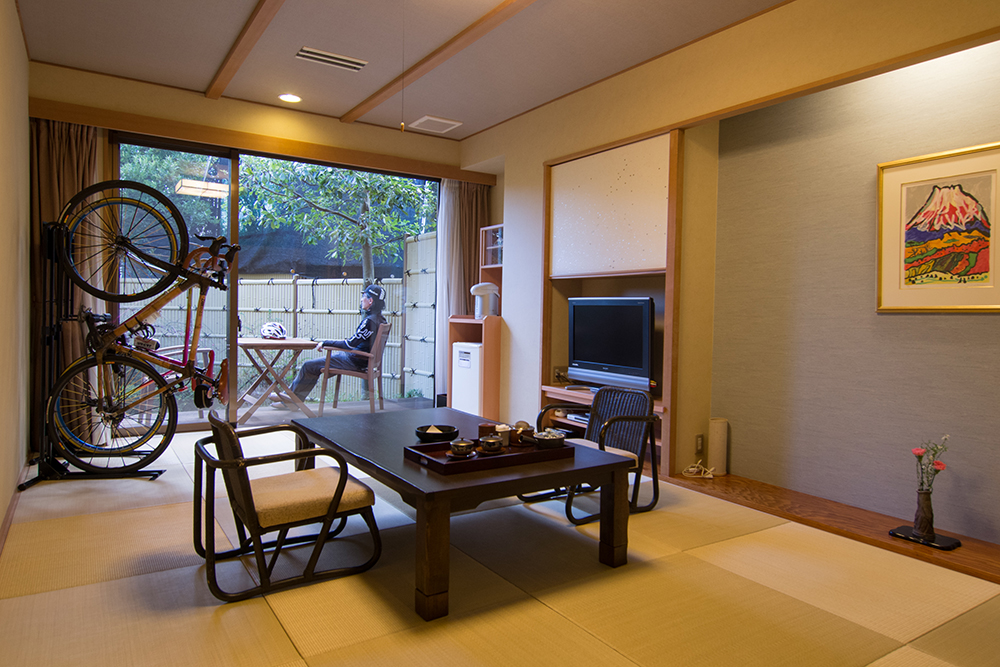 There is a Japanese-style room of "Fujitatei" that is located across the passage of Ayame-tei across from the passage and is also popular among young people in a casual atmosphere.
Although it will be a little smaller than the previous two rooms, it is still large enough for usability.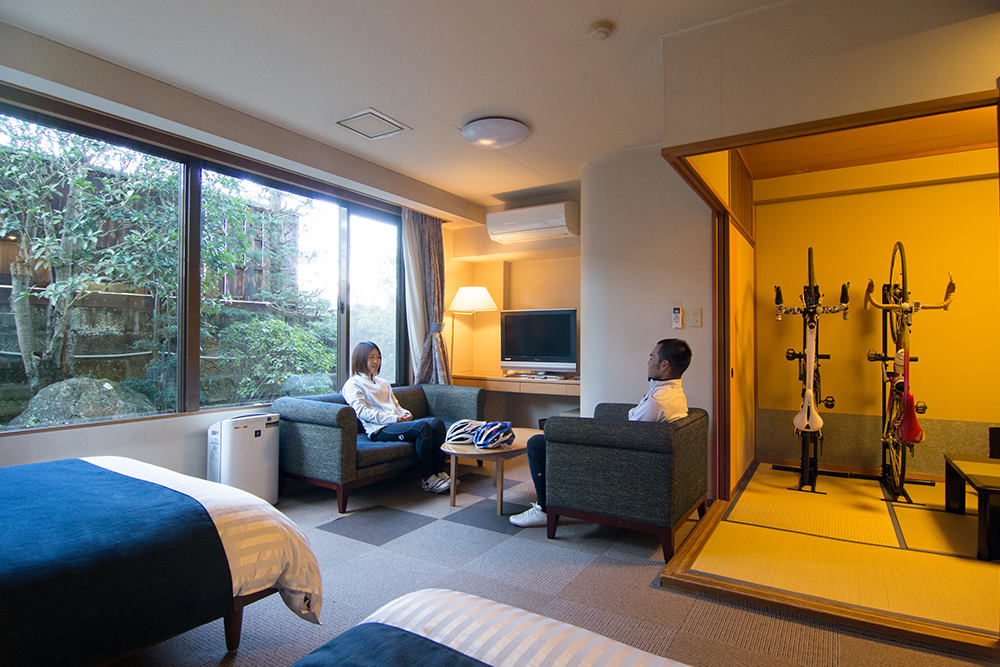 All of the rooms in the main building introduced so far are close to the main entrance and from the entrance to the parking lot on the north side, and rooms where the bicycle is easy to put in and out. For the cyclist, it is recommended that the first floor is less stressful for cycling in and out.
There is also a large lounge on the 1st floor of the main building with a view of the Japanese garden. Before riding, you may wish to look at the colors of the four seasons and have a cup of coffee and talk about the plan of the day.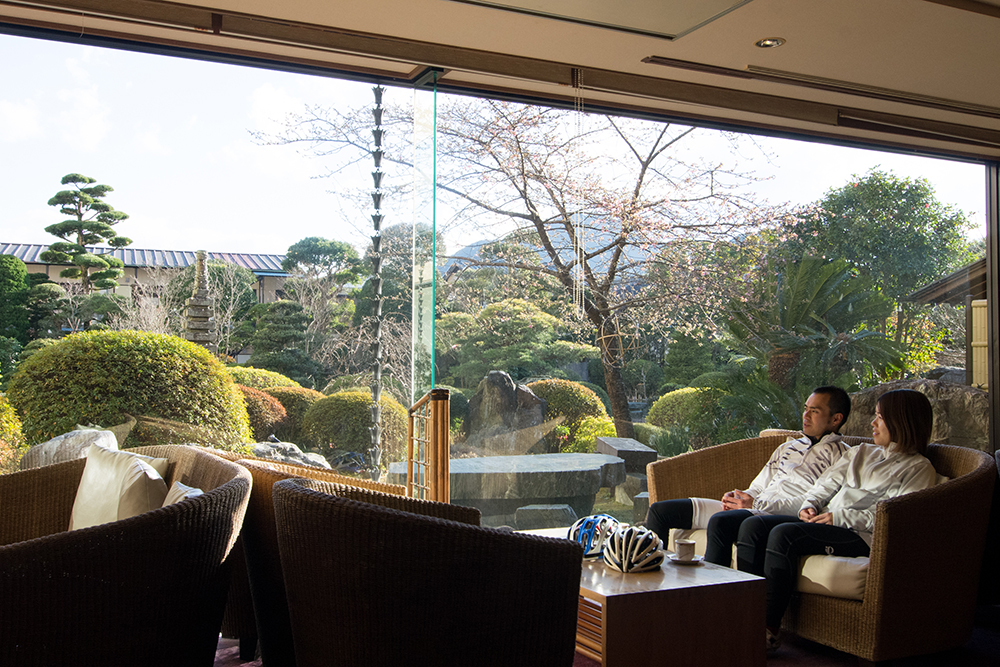 The hot spring in the main building is a total Hinoki Onsen "Satan's Yu Yumeme" which can be said to be synonymous with Sun Valley Izu Nagaoka.
"Ichinoyu" is a hexagonal large bathtub with a ceiling height of 10 meters that made the motif of Horyuji Temple of Nara. Its main character is "Hexagon Large Hinoki Bathing" in the center of the Yudo. It is surprising to say that it is cypress made all over the bathtub as well as the ceiling and wall on the site of about 300 tsubo.
Spring quality is a colorless transparent alkaline simple hot spring, with smooth skin.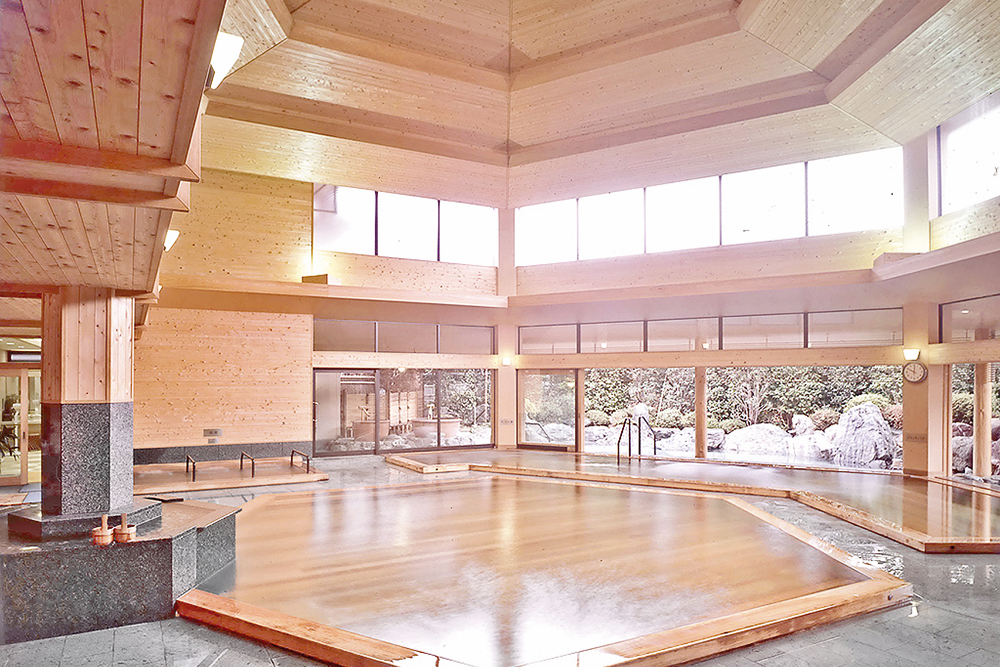 The whole-building smoke-free "Wakaku" pavilion equipped with five kinds of outdoor-reserved charter hot springs is located opposite the main entrance of the main building one minute's walk.
There are rooms with four unusual beds here, so it would be convenient for touring in groups of 3 to 4 people.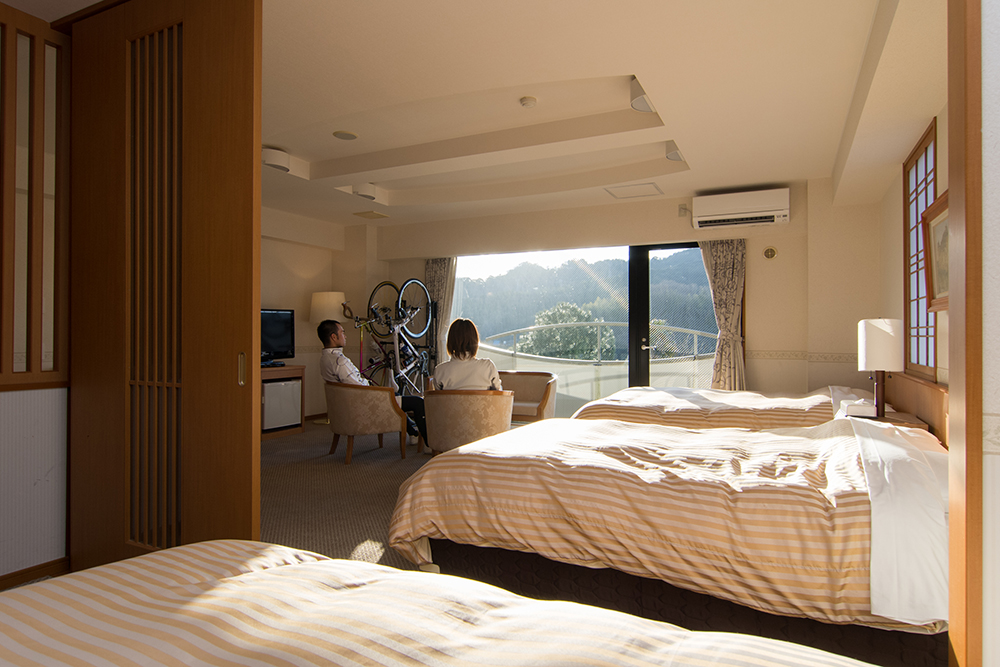 The elevator heading to the guest room on the upper floor is also large enough to hold two bicycles in a vertical position.
If there are other customers in the elevator, give way and want to be surprised by the bicycle when getting on and off.
Let's be conscious of being told that "Cyclists are good manners" in order to make traveling easier in Japan more bicycles.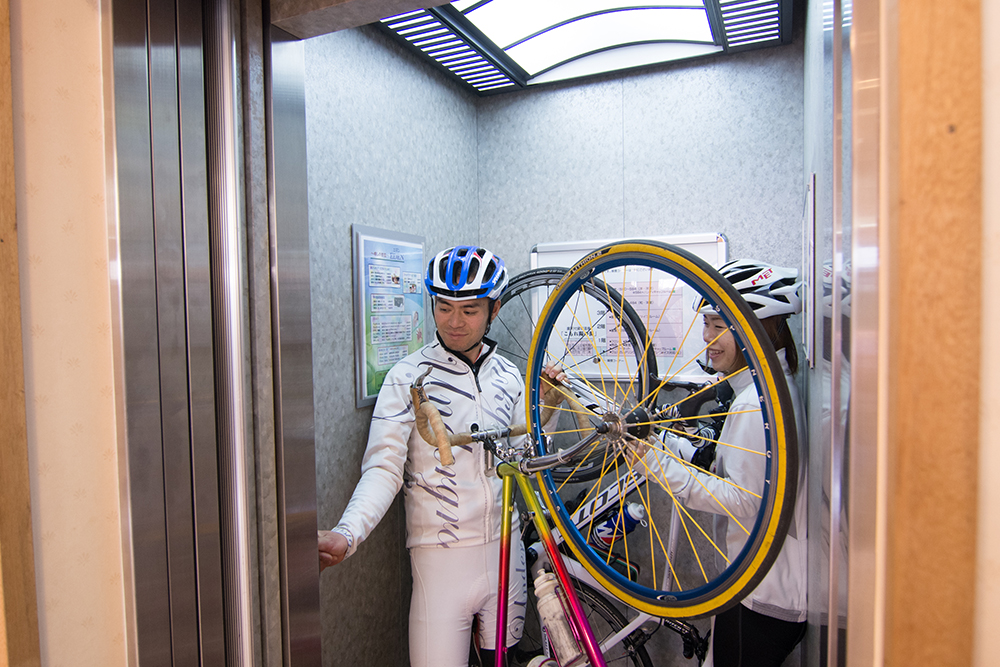 Well, the third "cyclist welcome" lodging house of Sun Valley Izu Nagaoka is "Yuzankan" of condo type.
The distance from the main building to the Yuzi-kan is about 500 m, which is quick if you bicycle, but if you ask, you will be picked up by a free small shuttle (wagon car).
If there are no other passengers, it is possible to load about two road bikes directly into a pick-up car.
At first glance, Yuzenkan of exterior looks like an apartment. The interior is exactly right, so it may be good to use it like a relaxing condominium.
In the kitchen there is a refrigerator and a microwave oven as well as a gas stove. (However, we do not lend cooking utensils.)
It can be said that it is suitable for team training camps and long stay. Indeed, also in the track competition Asian championships held at Cycle Sports Center in Shuzenji, it is said that the players from each country used this room of Yuzenkan.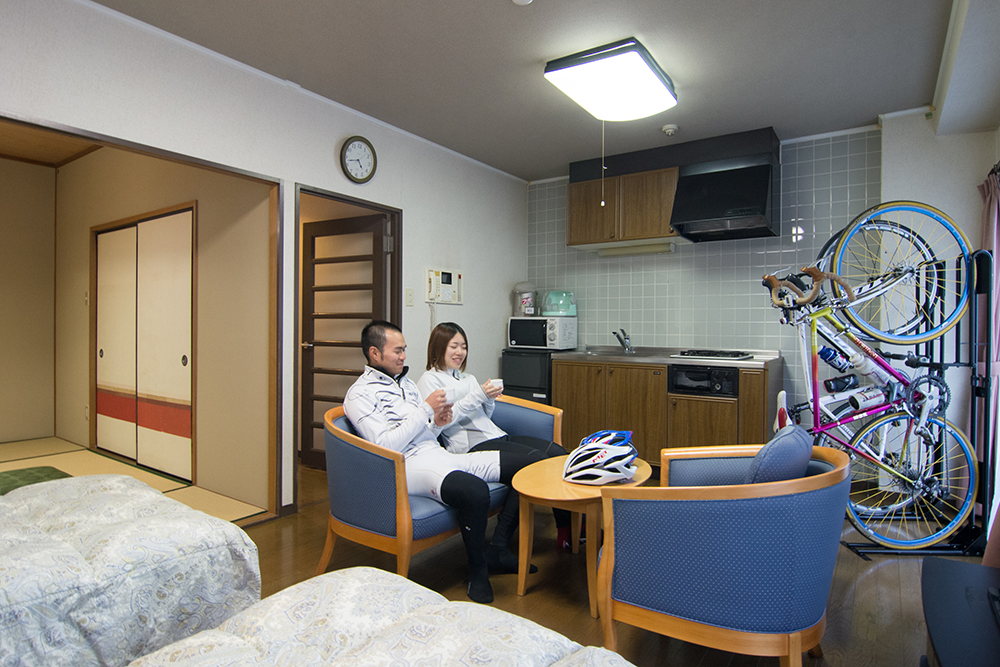 It is probably because team camps and sports athletes are frequently used. Yuzenkan has a space with a fully automatic washing machine and a dryer, it costs as much as 500 yen per charge, but you can also wash clothes for multiple people together in a washing room with a key It is.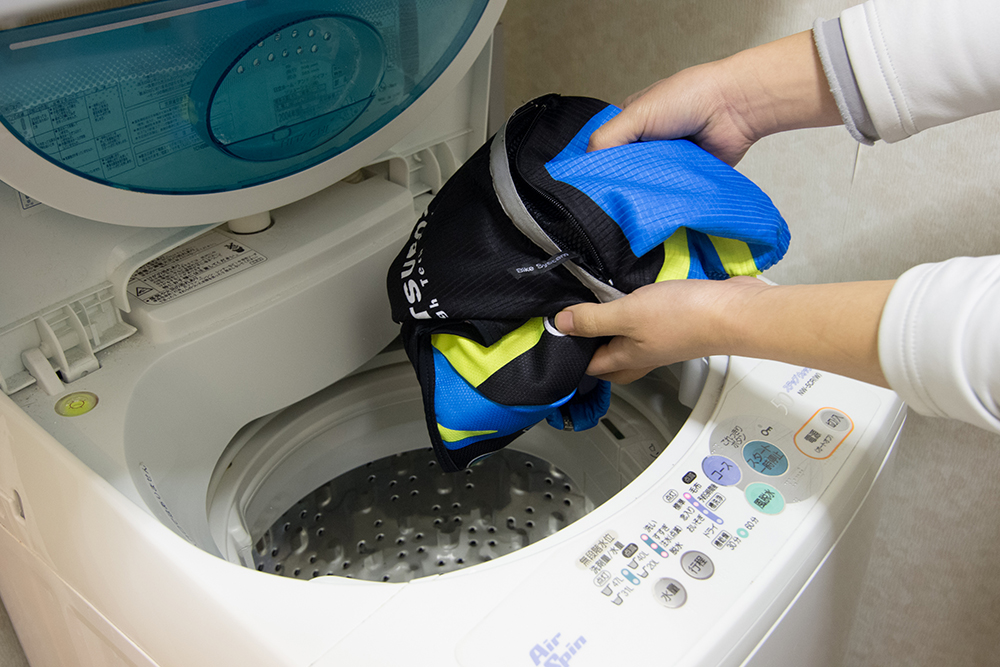 In addition, when staying at each building of Sun Valley Izu Nagaoka except for Yuzenkan, if you request through the front desk, we do the service to wash and dry the cycleware and return it the next morning.
There is a multipurpose room in the basement of Yuzyokan, and in the back there are few, but training equipment is also available.
If a large number of guests stay in a team camp or in a tour such as a circle, the bicycles can be stored together in this multipurpose room.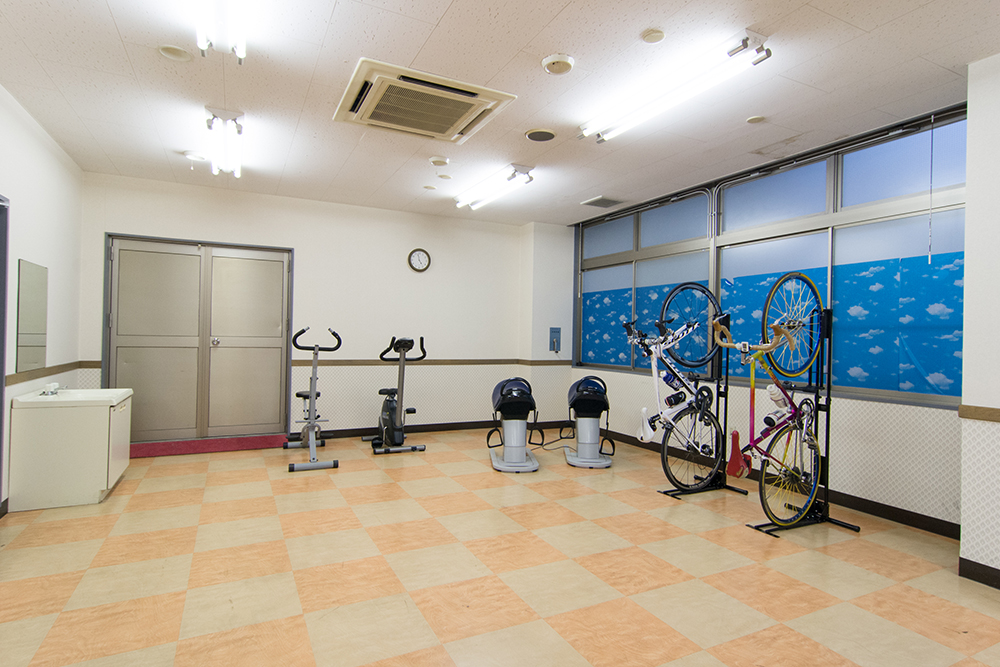 Sun Valley The fourth "cyclist welcome" pavilion of Izu Nagaoka is "Fujimi" which is located about 2 km away from the main building.
Of course, we can come and go with the main building by free shuttle.
The attraction of the Fujimi pavilion, as its name suggests, the beautiful figure of Mount Fuji can be seen well from the window of the room. (There is also a room with view of Amagi Renju side.) In addition to the scenery of Mt. Fuji in the daytime, in this lodging which does not block the sight of the surroundings, the night view of Izu Nagaoka spreading under the eyes is one of enjoyment.
If you arrange your bikes in front of a spacious window with a comfortable Japanese-style room that is comfortable, you can also love the night view and your car at the same time.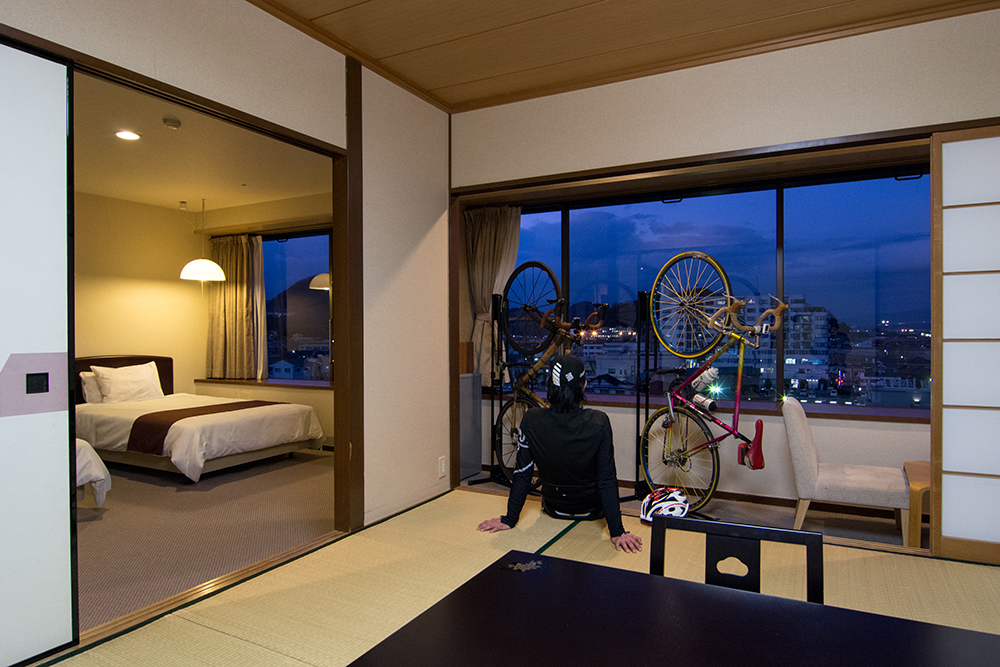 The standard Japanese style room, if it is two people, is enough. The carpeted space at the window side is just right to install a bicycle with a vertical stand. It is the real pleasures unique to simple rooms that the bicycle appears as if it were an artistic object like a window scene.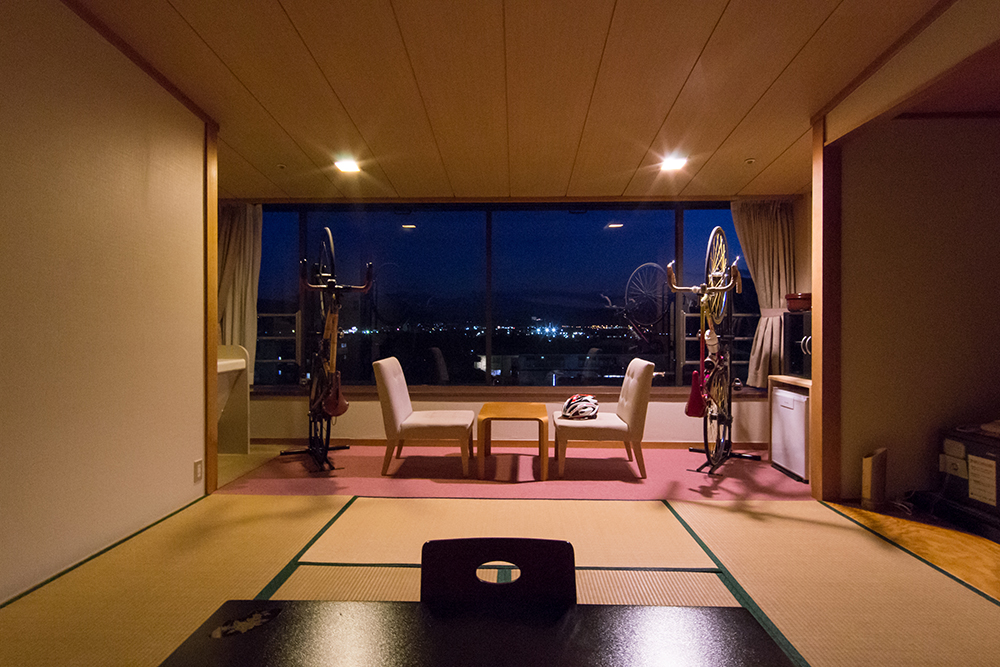 Yes, when I am staying at this Fujimi pavilion, it makes me somewhat artistic.
Because the wide corridor in the hall is full of stunning paintings, it is no longer the same as the museum.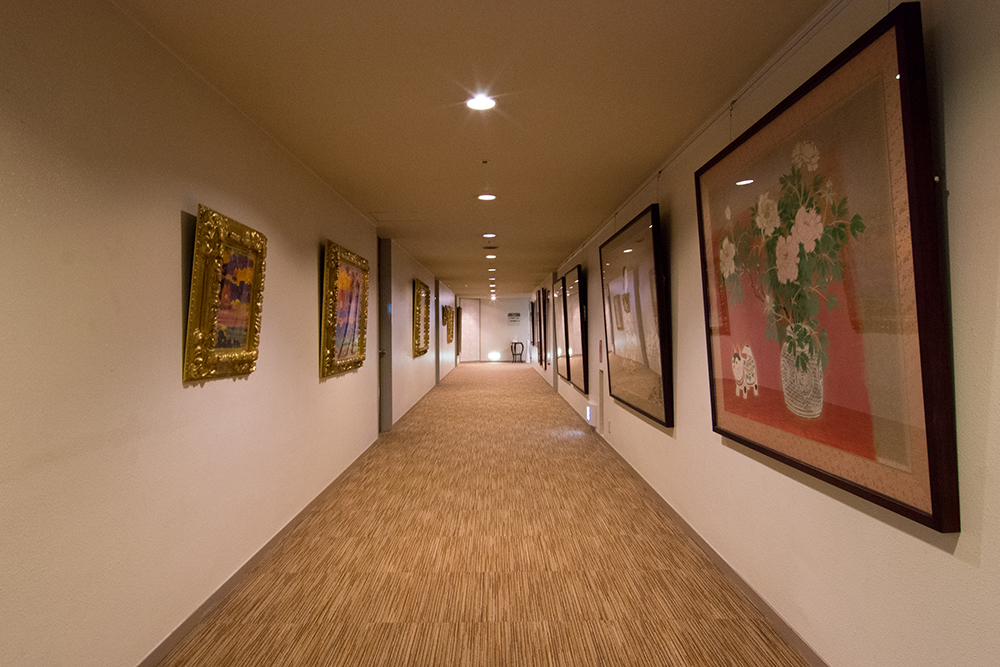 Actually, there is even a free "small art museum" which exhibited works of Ikuo Hirayama and Kazuyoshi Kayama on the basement floor.
It is a serene space that makes you forget that you are inside a hot spring inn.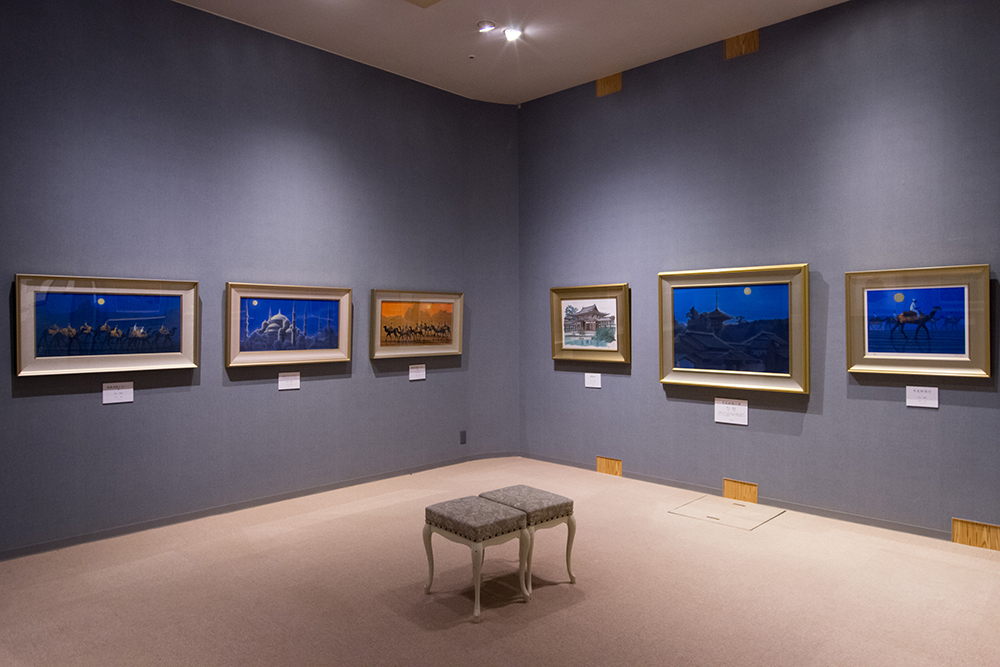 Fujimi's hot spring is a different source of self-origin that is different from the main building. Although it is also an alkaline simple hot spring here, the alkalinity is somewhat strong, and it is said that the skin beautification effect is high as a slimy.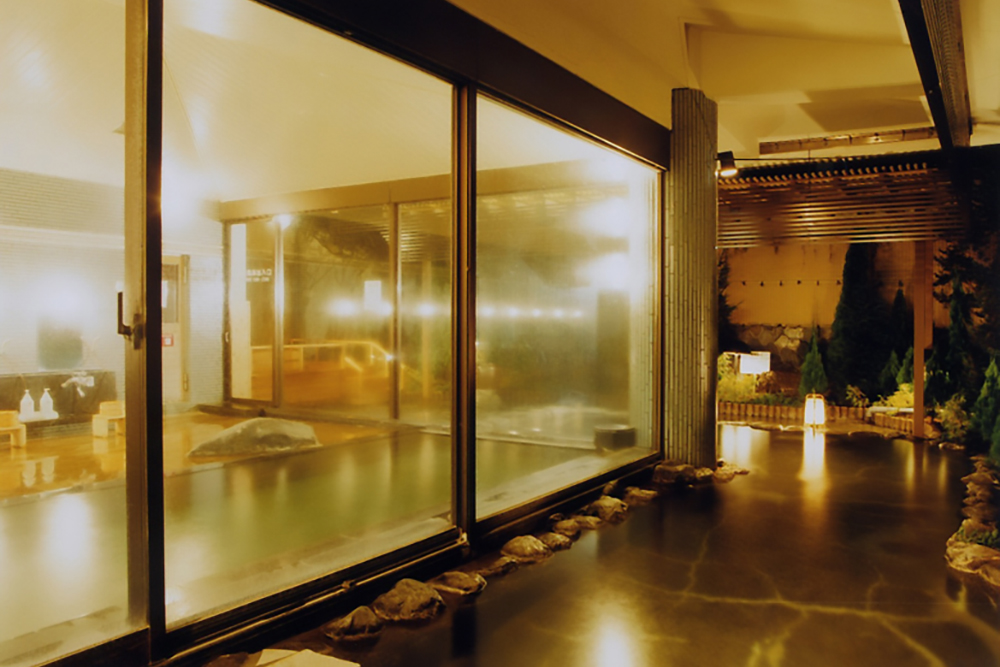 After relaxing the tiredness of the ride firmly with numerous hot springs, it is the dinner time you enjoy.
Speaking of Sun Valley, it has a reputation for a buffet with a taste and variety. You can enjoy about 50 kinds of Japanese, Western and Chinese cuisine. Moreover, as cooks cook and serve in front of me, I am delighted to be able to taste freshly made fruits.
I am reconsidering that food is entertainment for the pleasures of choosing various dishes arranged side by side in front of us, in combination with taste while turning around here and there.
If you would like to enjoy the quiet dinner slowly by themselves or if you stay at the Fujimi pavilion, plans to receive Japanese cuisine and Chinese cuisine are also available.
I want to enjoy the night when flowers bloom in my bicycle talking while nurturing spirit with their favorite style meal.