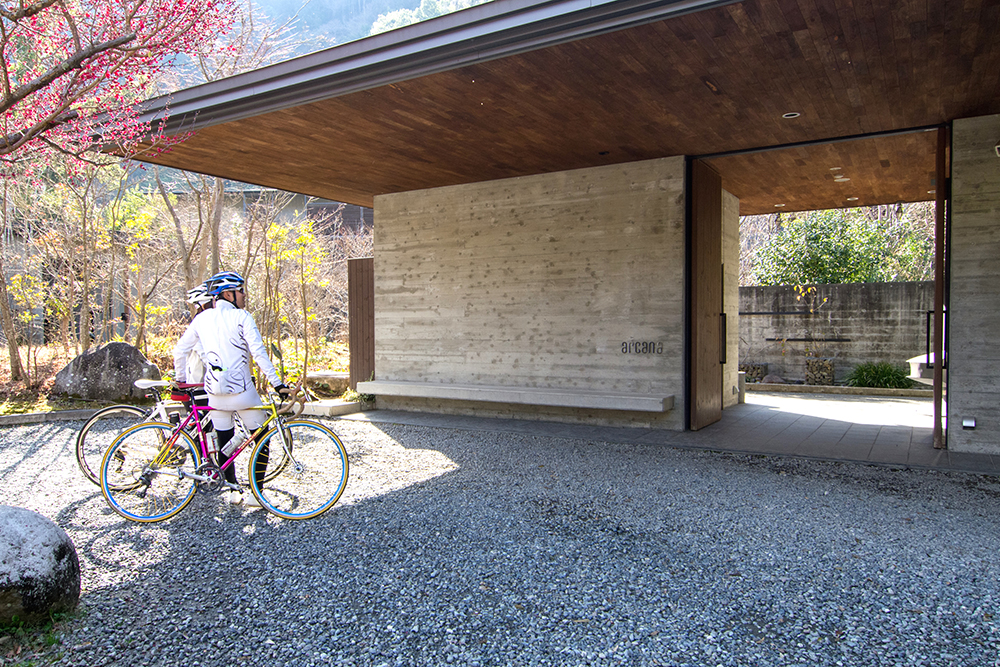 "I will go on a trip just to taste the dish."
Arcana izu says he wants to be the destination of such an adult trip.
In the concept, there seems to be a place to communicate somewhere with the propensity of the cyclist who is willing to travel a long distance for "that dish of that store".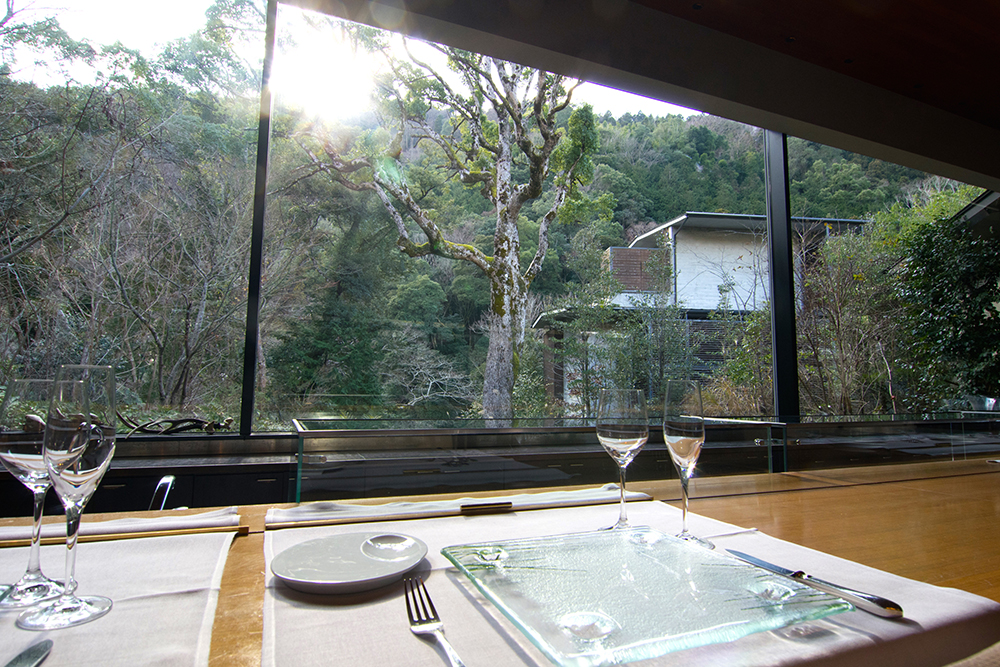 Arcana izu standing in the virgin forest of Nakaizu, Amagi Yugashima suggests, "To be extravagant to taste nature".
The building is a design that scratches the beauty as much as possible, while making the city sense. Besides the gate and the restaurant, we do not make buildings that will become public spaces, all are located at natural distances in the forest.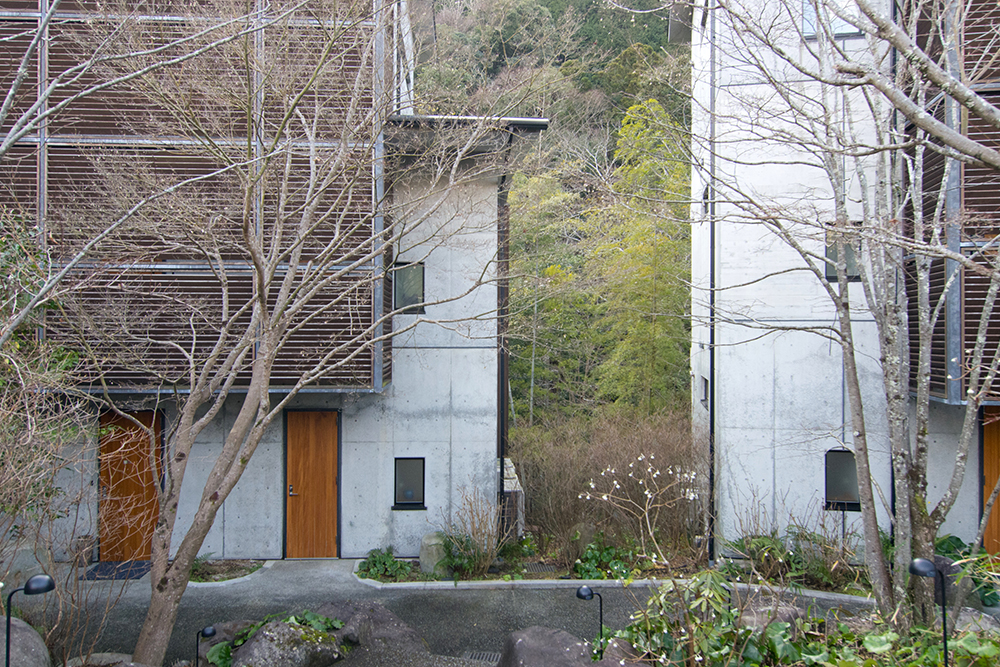 Guest rooms in all the suite rooms do not dare to have more than necessary facilities and ornate accessories, and there is no TV.
Instead, there is a powerful original forest spreading in the clear stream and valley of the Kano River flowing in front of you.
The idea that this environment is the highest luxury, which is wrapped in river noise and bird's chirping in a sophisticated simple room is transmitted well.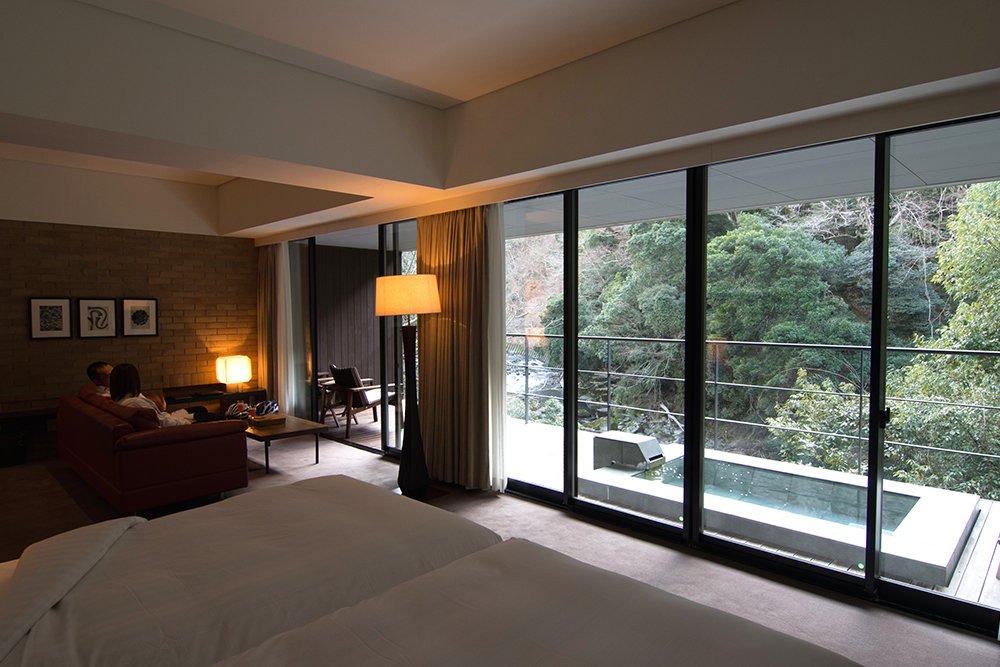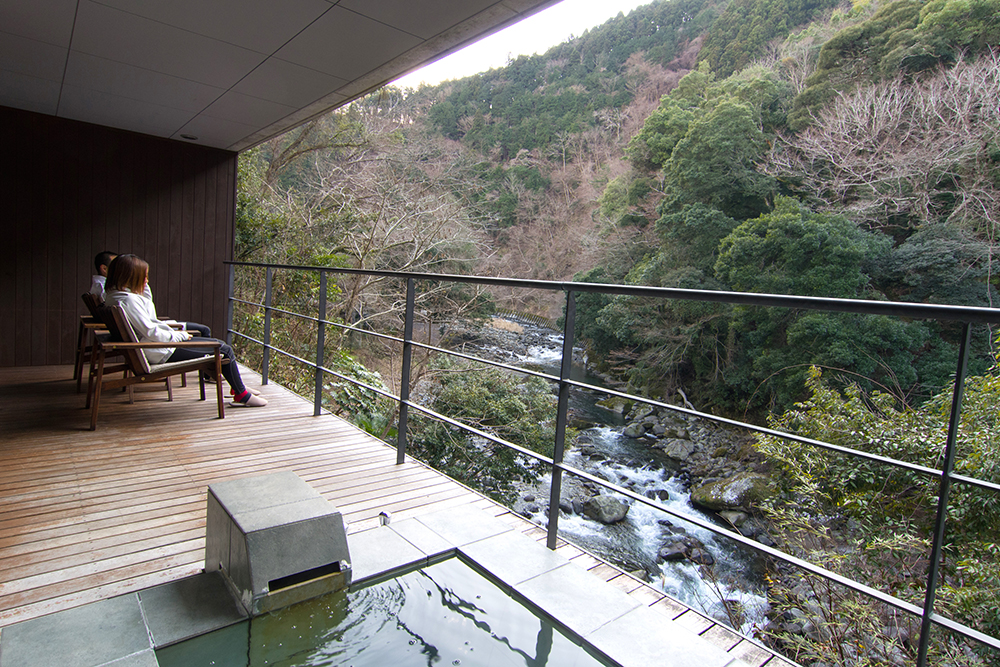 Arcana izu has no lobby and no reception, and check-in / check-out takes place in each room.
Spacious enough to spend with two people. Despite its fine quality, the interior of a design with suppressed design and comfort is comfortable.
While getting a welcome drink, we look forward to the forest outside the window and welcome you for a while.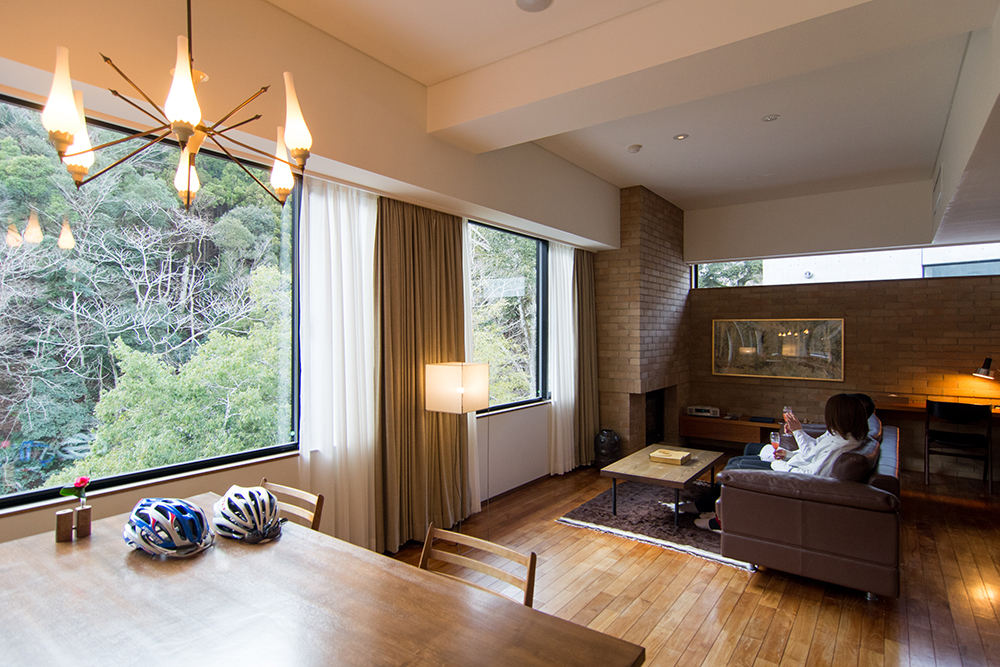 "I am surrounded by great nature and I enjoy eating."
It is exactly where many cyclists who love nature seek in particular.
There are many good scenery roads suitable for running by bicycle around here, and it is close to the famous "Nishiizu skyline", which is famous for a spectacular winding road with Mt. Fuji and Suruga Bay.
It is inevitable that arcana izu becomes a "cyclist welcome" inn.
Accommodation Cyclist's bicycle is deposited safely in a butler room that is set up in a robust gate, deposited in an exclusive butler.
Parking at arcana izu becomes bald parking, so something is inconvenient when you load a bicycle in a car, but it is safe and convenient if you keep it here. Of course, there is also a pneumatic pump compatible with Buddhist style.
After a ride that was inspired by the superb view, I challenged a lot of undulating Izu winding roads, a blissful relaxation time at the hot spring in Yagashima, a soft Tenryu.
In arcana izu, all the guest rooms are equipped with hot spring open-air baths with sourced springs.
Among them, the outdoor bath with "The SUITE" room is a large bathtub where two adults can relax into the spacious terrace overlooking the valley. It is an extremely open feeling. Because it runs on a source for 24 hours at any time, it is an indispensable hot spring with his legs stretched out anytime, any number of times.
You can sit on the deck chair and enjoy the footbaths relaxingly while watching the view of the dramatic stream and the virgin forest.
At arcana izu, after hot spring bathing, there is also a menu where you can call a practitioner and receive massage and spa treatments in the room (or on the terrace). To enjoy the ride the next day more comfortably, body care that leaves no muscle fatigue is important.
There is no need to go out outside while staying as a yukata, while listening to the babbling of the river, treatments received in a private space must be time to be enthusiastic.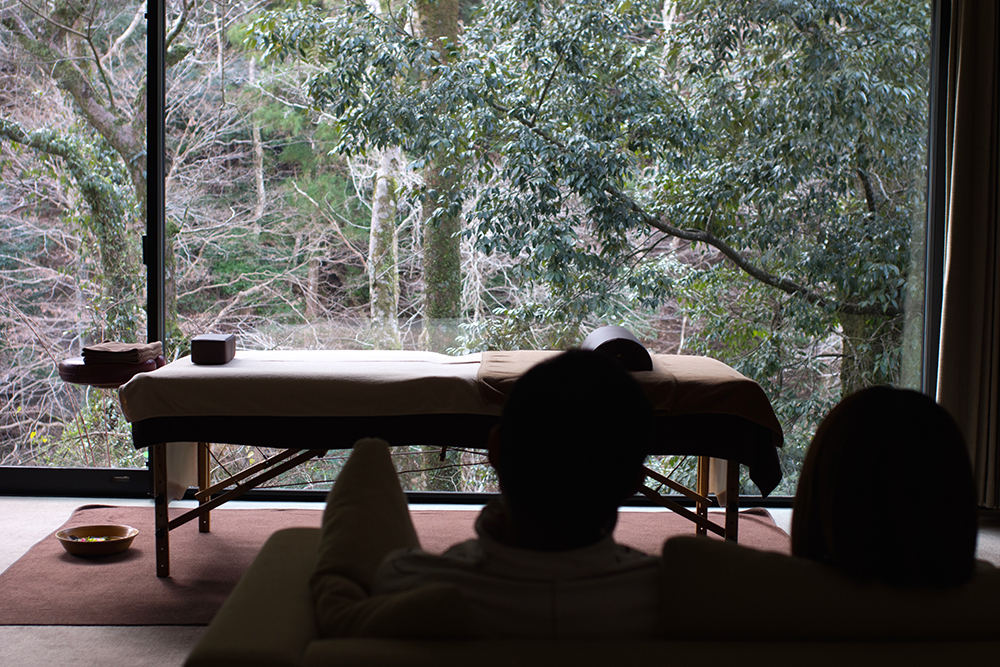 Even if you can sweat yourself in a bath, the treatment of dirty cycle wear is a point that always becomes a problem on a bicycle trip.
But there is a "cyclist welcome" arcana izu. As a service for the cyclist, if you deposit the wear in the responsible butler and ask for washing as a service for the cyclist, after washing / dehydrating, it will dry naturally and return to the room the next morning. If you wish to use it early in the morning the next morning, you can receive the clothes up until the laundry and dehydration in that day and dry it in the room.
It is a pleasant and comfortable room with a lot of pleasure that you can wear your favorite wear in clean condition the next day without having to leave wear covered with sweat, it will be peculiar to the cyclist. Moreover, I do appreciate it because it is not necessary to spend my traveling time on washing.
Well, finally the dinner time you enjoy.
Should the restaurant of arcana izu be said as "theater type restaurant" in a word? It is a space that provides an emotional diet experience that is not elsewhere.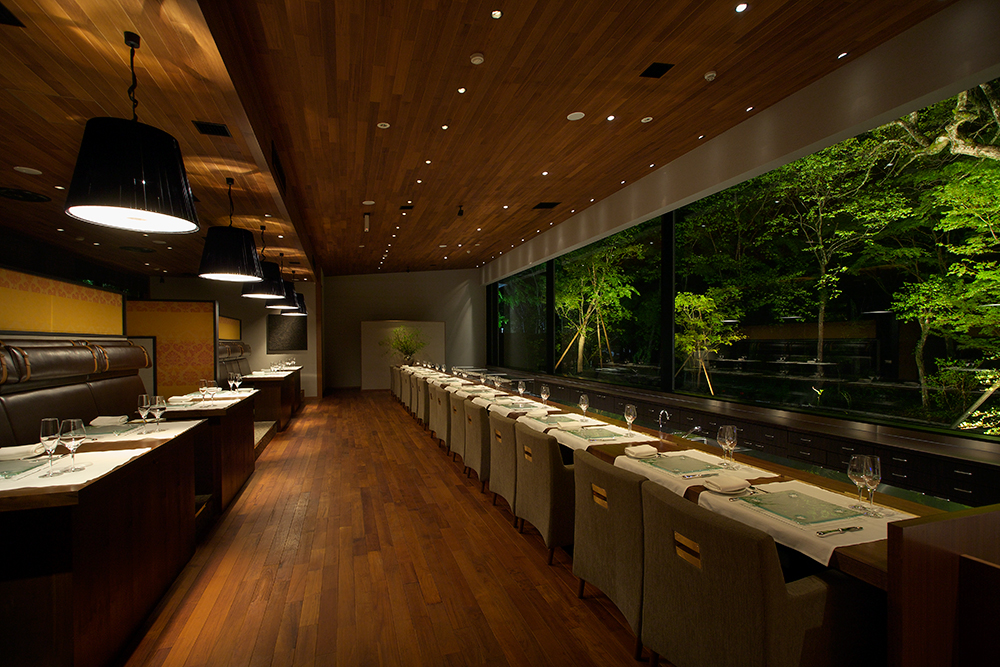 First of all, it is worth seeing the great nature of Amagi that spreads through a large window like the cinema's screen, and the oak's big tree that has an overwhelming presence in it.
If you take a seat at a counter with a total length of 15 meters, you can enjoy a conversation with the chef while watching the dishes that are beautifully served in front of you.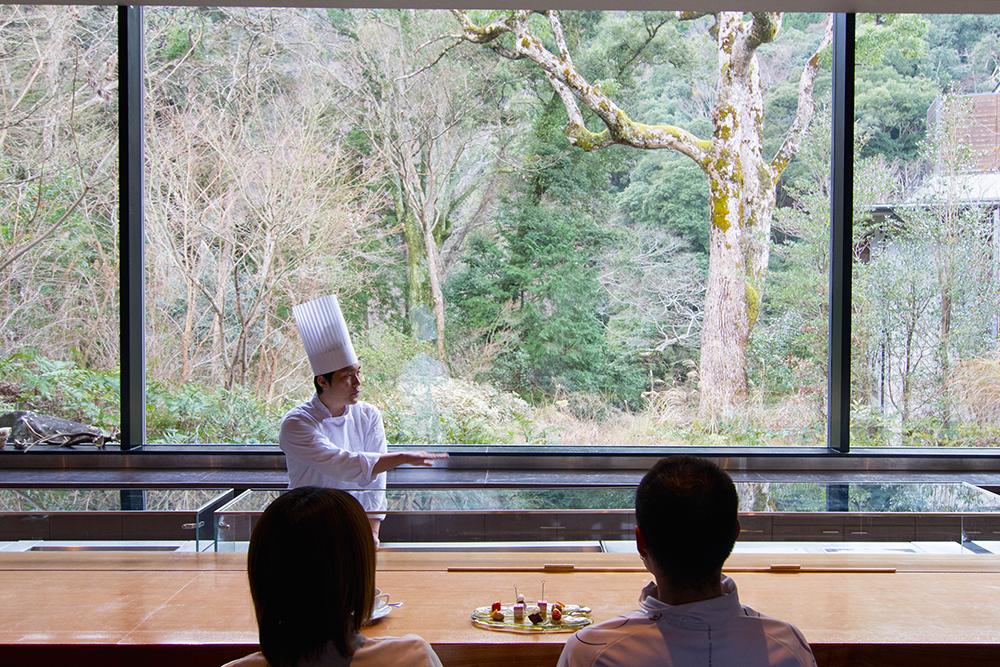 The back seat of the counter seat, the seat which became one step higher across the aisle is called "Opera Sheet", and it is popular with those who want to look at the atmosphere of the whole restaurant as well as those who want to enjoy conversation with Butler.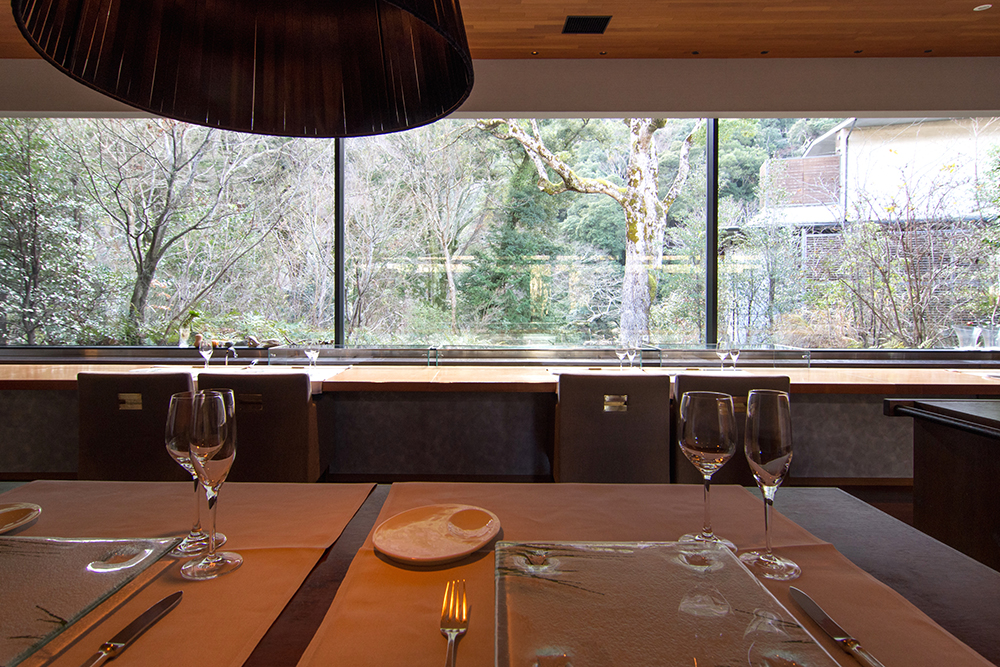 We have strong relationships with local organic farmers and individuality producers and prepared seasonal ingredients unique to Izu, centering on locally produced seasonal vegetables and fresh seafood from Suruga Bay, the deepest bay in Japan ing.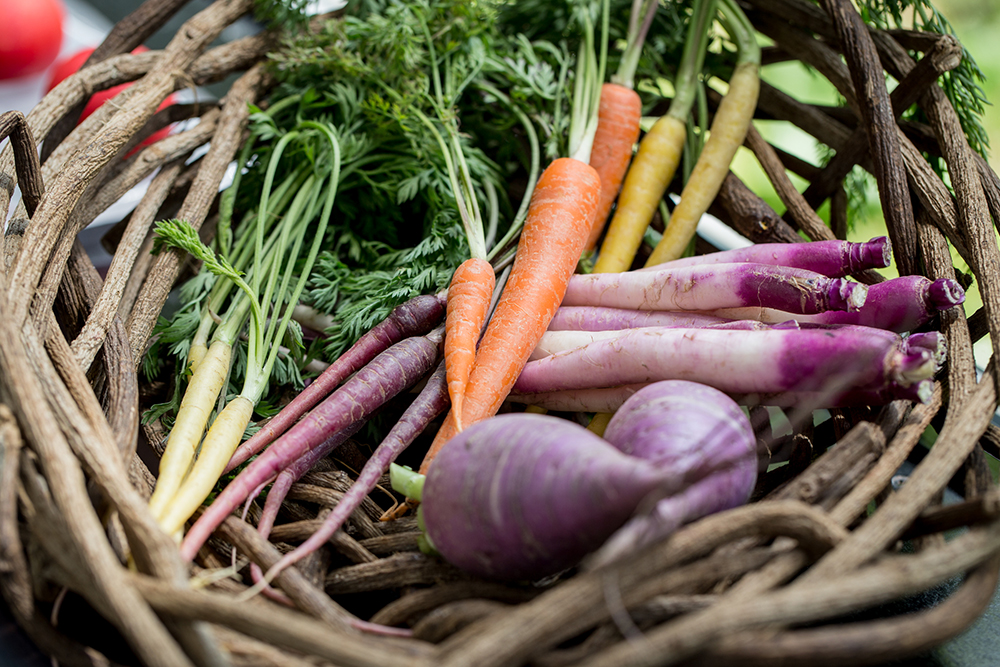 The Latin word "arcana" which was the origin of the innkeeping name = "Grand Menu" taken from "mystery" Grand prix "mystery". First of all, a tapas welcoming me makes me feel like I traveled in Izu and Shizuoka.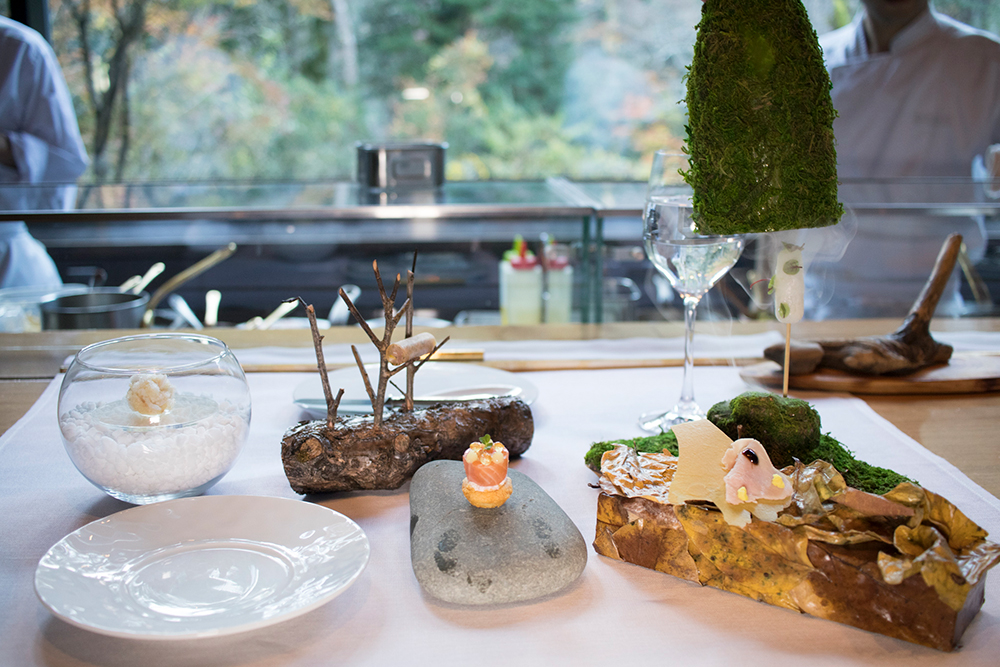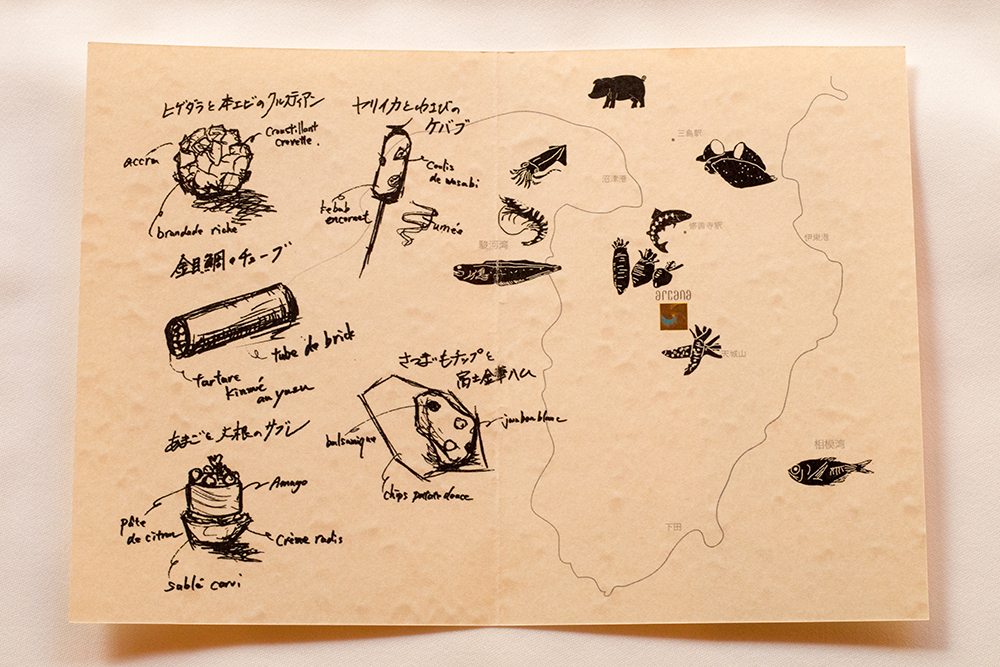 One dish, a little surprise is added on the taste, which makes it more fun to eat. Again, it is noticed that cooking is entertainment entertaining people.
The contents of the Grand Menu will change from time to time according to the season so that you can fully feel the change of the four seasons. For example, let's introduce some dishes that have been served in the past.
First of all, Kaname Snapper and Zucchini Ravioli Berlingo.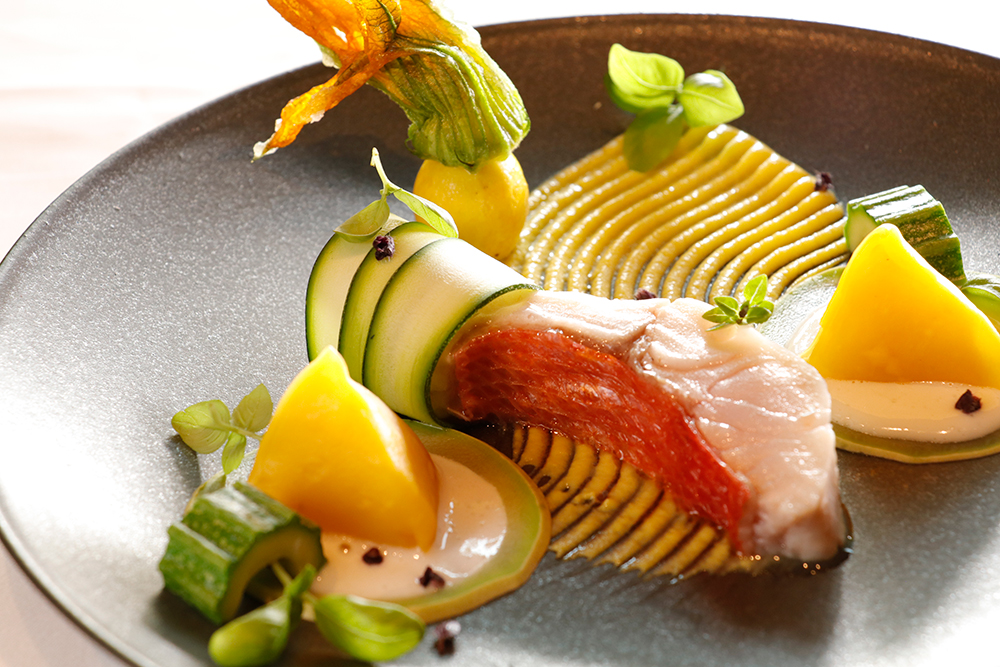 Next, fishing Horse mackerel · Poisbron · Rouge.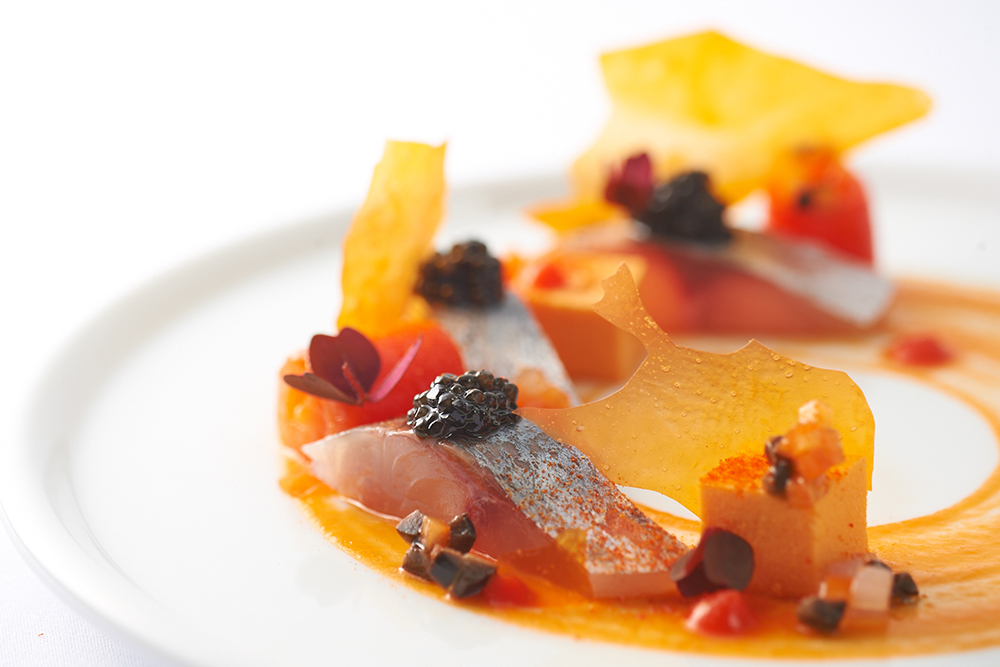 In addition, Ayu's nurse.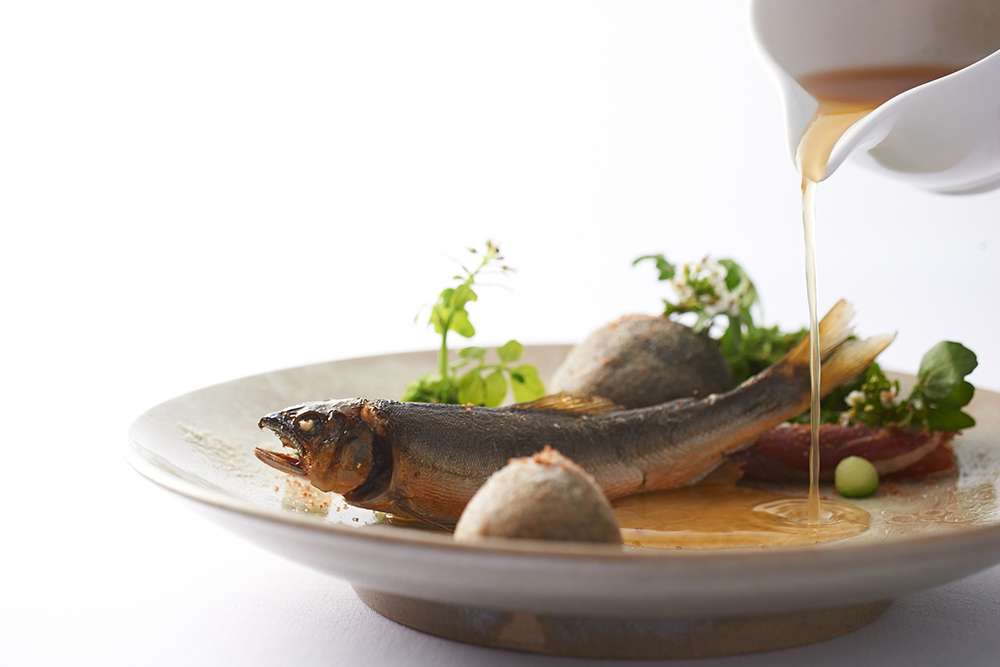 In addition to the Grand Menu, you can also add ingredients that season at that time as an option.
For example, from the latter half of October to about March every year, chefs themselves pick up sturgeons and take out eggs and offer home-made caviar. It is a fresh caviar that enjoys the original taste of eggs, with a mild reduction of salt, unlike ready-made items that raise salinity to keep it day.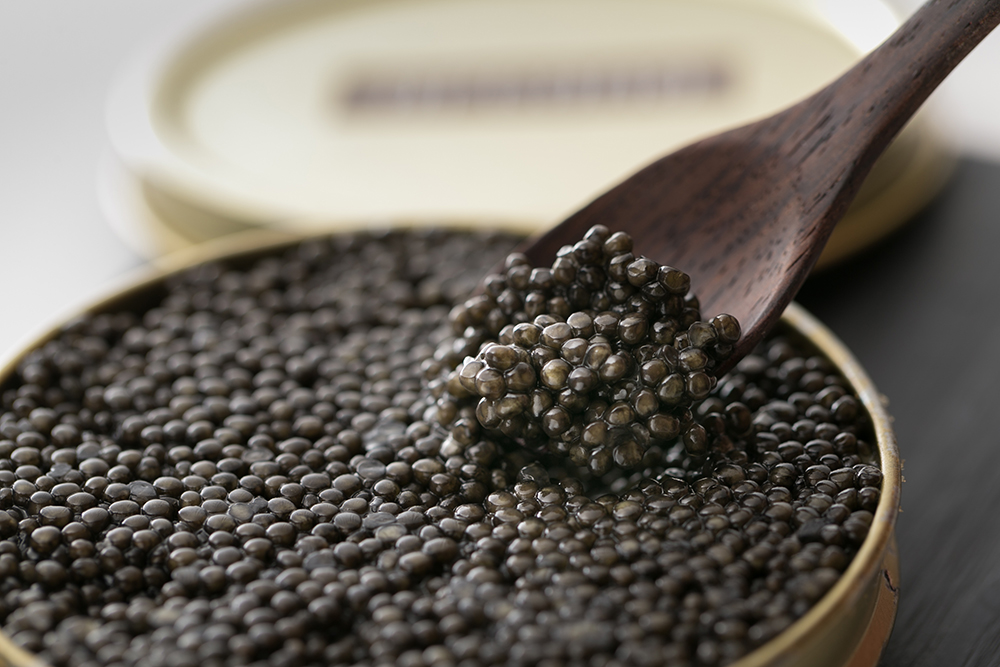 Carpaccio of Suruga Bay scallop shrimp that the foot is soon and fresh can not be eaten middle – aged.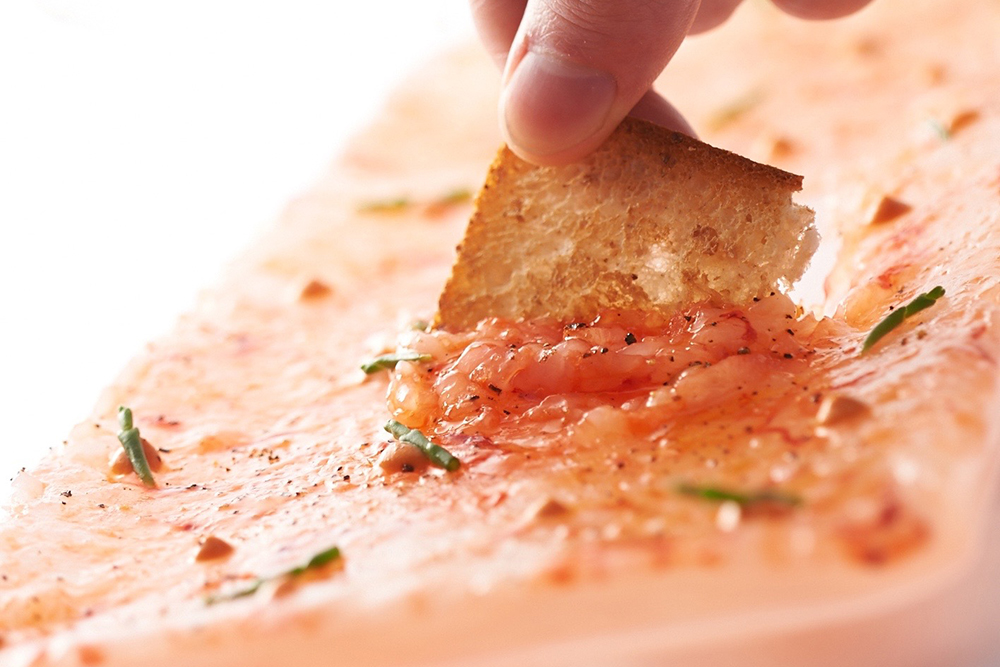 Not only for dinner. The breakfast is also full of creativity and ingenuity that will entertain guests.
Trees and stones are used for the dish of the dish, and care is taken not to disturb nature. The theme of the whole breakfast plate is "Picnic in the forest". Tart, abundant egg dishes and vegetables, fresh juice, self-smoked roast ham, baked bread, which can be chosen from 20 different recipes by combination of recipe and ingredients.
I feel a lot of fun in the morning, energy as well as body energy is charged at the same time.
Now it is going to be another day of a fun bike trip today.