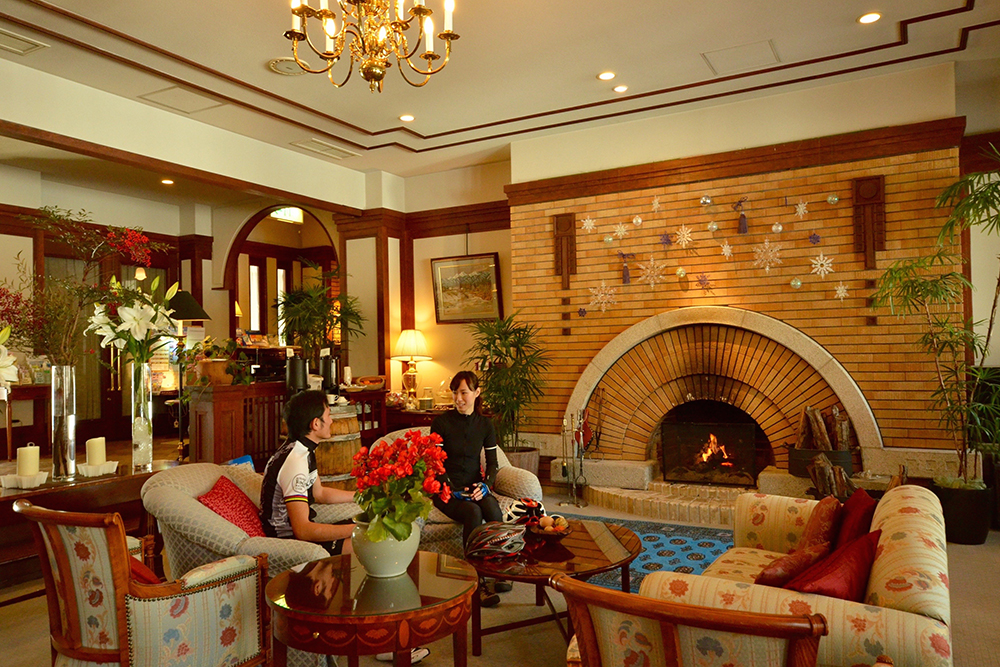 Northern Alps Hakuba At the foot of the foot of Mount Hakuba, enjoying the sense of unity with rich nature, you will be relaxed with a special space created by artistic furniture.
La Neige East building that will make such luxury come true. Here, a thorough aesthetic sense is felt everywhere.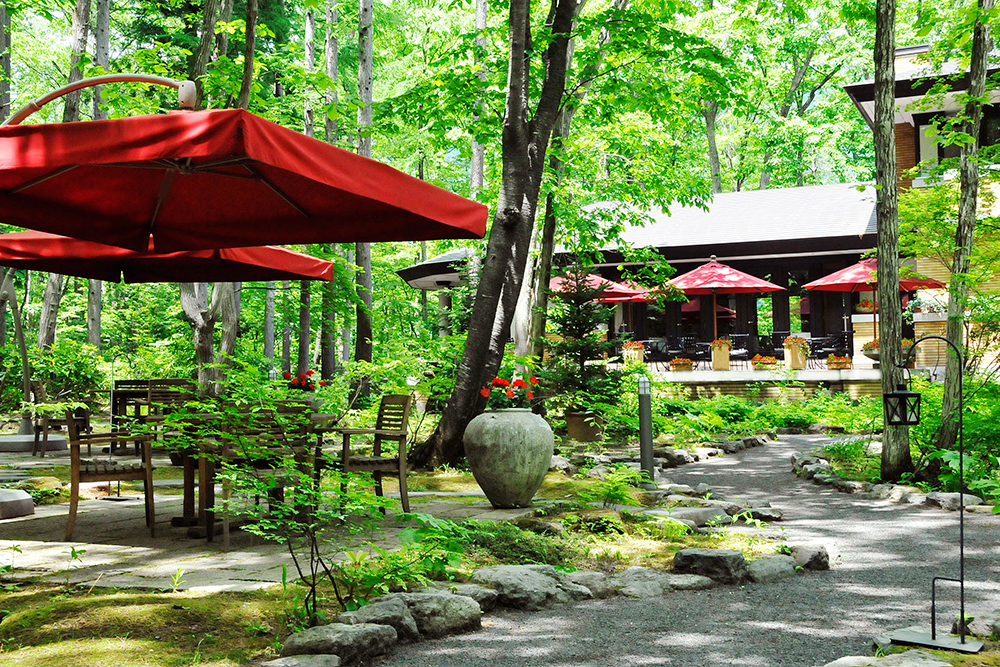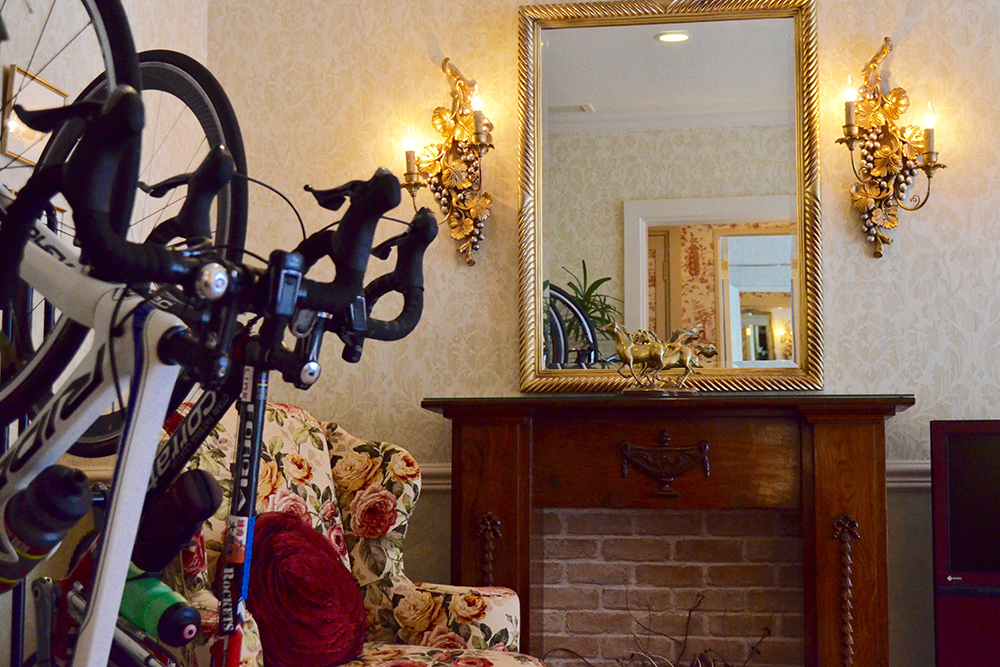 Low-rise building based on the concept "fusion with nature" that many cyclists will sympathize with is one such one.
It is a Western-style building designed to coexist with older trees that are over 100 years in age, beginning with the surveying every forest's trees of about 10,000 pyong.
Above the heavy entrance of the brick arch, the snowflake named after the hotel name "La Neige" (French, "snow") shines.
As the flags of many countries are listed, there are many guests visiting from abroad, and also features high repeat rate.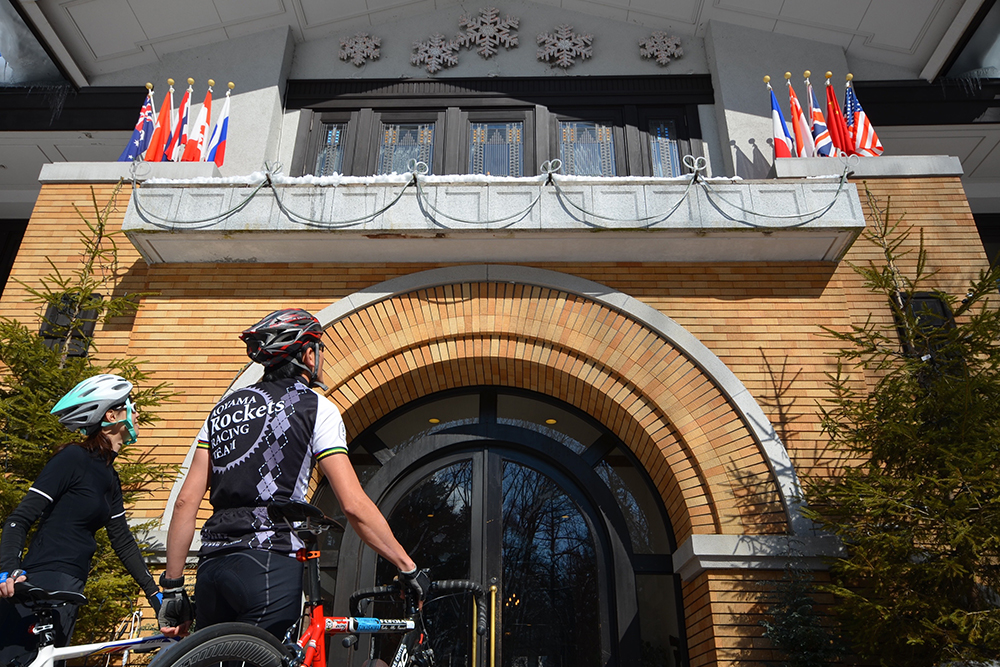 What is becoming a major reason for its popularity is the atmosphere as if staying in Europe's Manor House and the "home" where it is not too big.
And, to say anything, the owner himself purchases in Europe and the United States, beautiful furniture and furniture that can be said to be artistic. Individual room spaces are designed based on inspiration from those furniture.
That's why all the rooms have different personality, the next will make me think that we will stay in that room. It will make me feel exciting and fresh surprises no matter how many times I visit.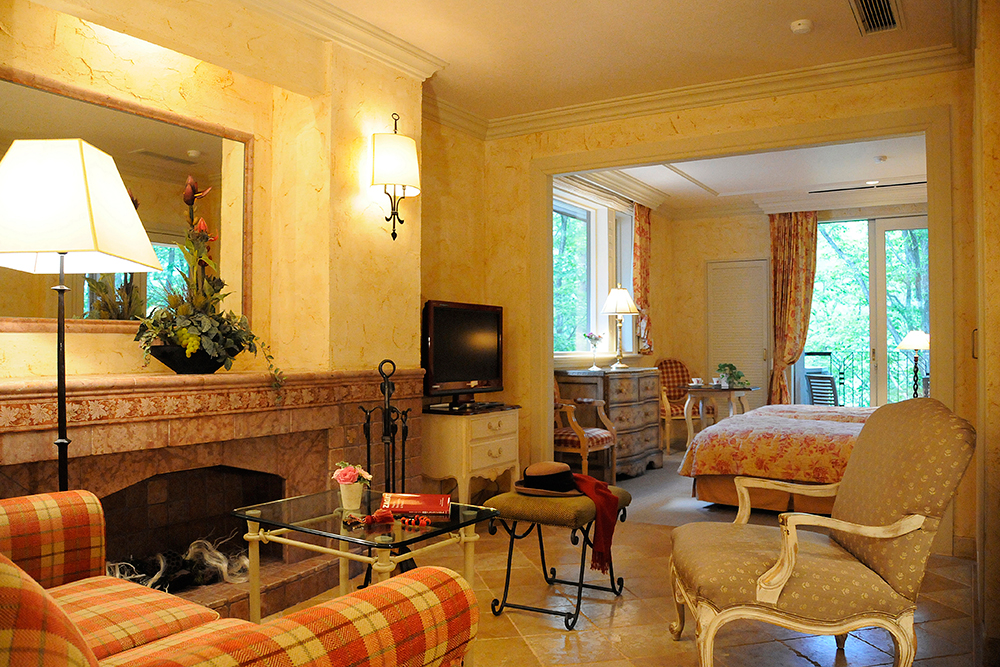 For example, in this room of the junior suite, the chair of the baker's house whose rose pattern is beautiful in the back right is the source of inspiration. Along with this, everything from walls, floors, paintings, other furniture, etc, is based on engine color.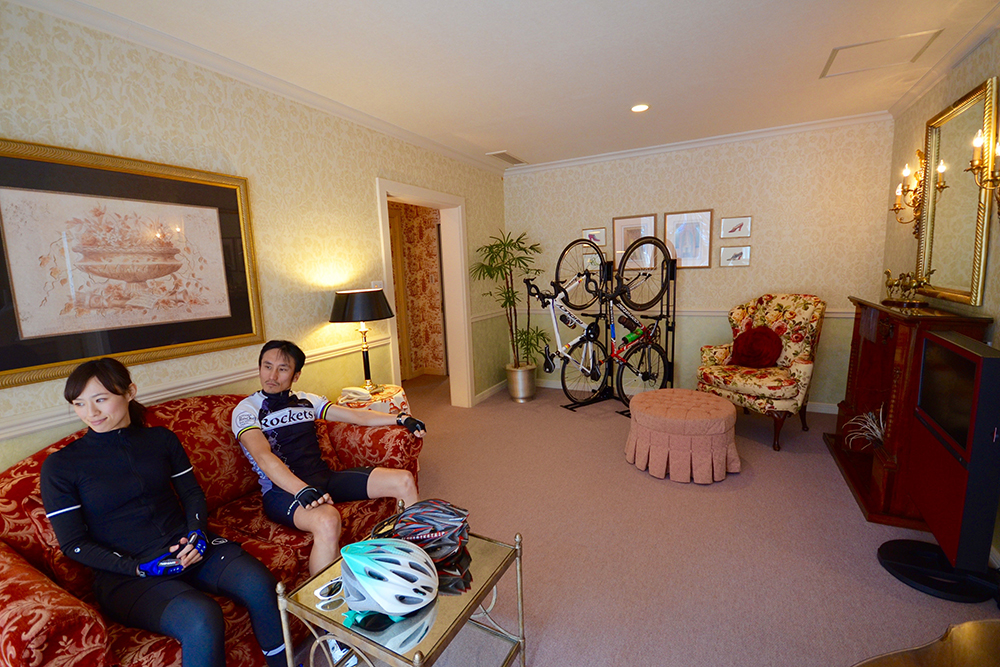 Actually, this La Nuee East building, the owner himself is an experienced cyclist, and the manager is also commuting bicycles on a road bike, so I am convinced of the fulfilling "cyclist welcome" service.
The original chic wood cycle rack is a combination of black and red which is also frequently used for bike coloring.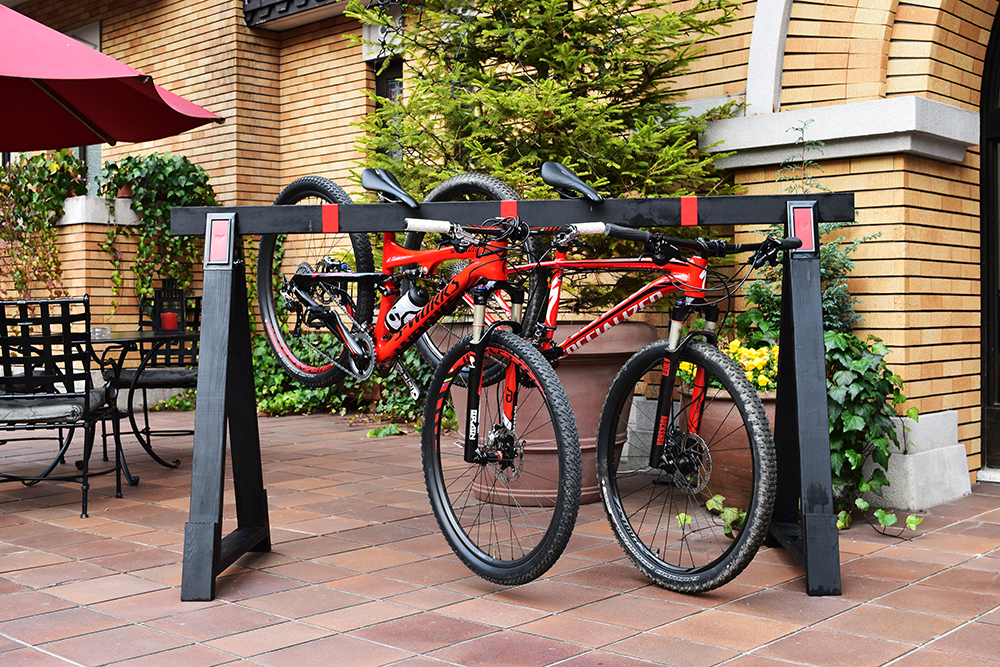 And, of course, guests' precious cars can be brought into the room as they are, and they will color the room with beautiful furniture.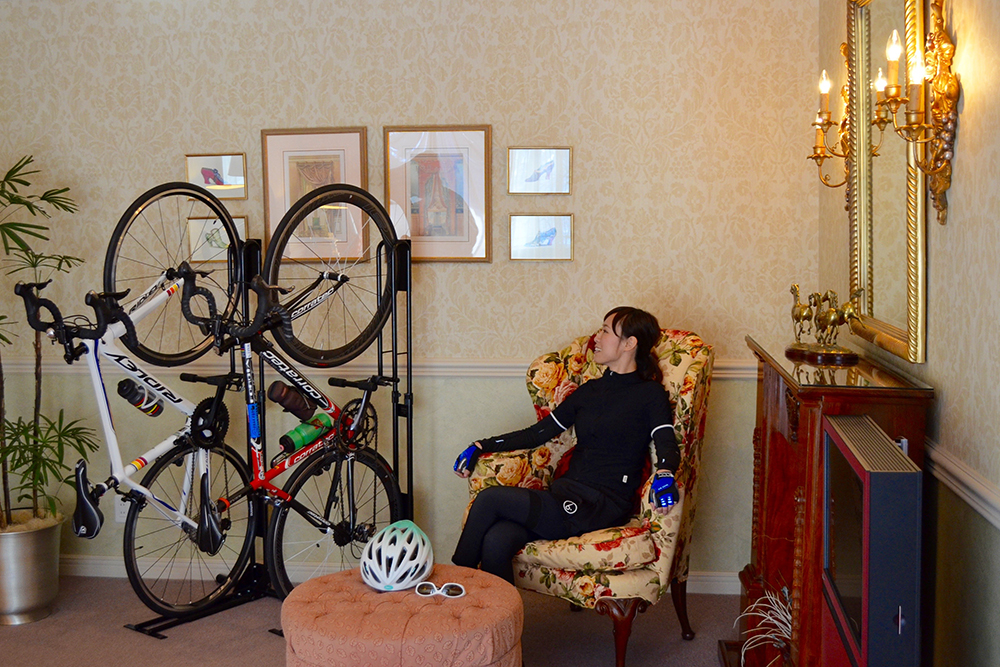 Having said that, choosing a room to match the atmosphere and color of your bike seems to be fun.
A contemporary bike of simple design will match well with stylish and modern atmosphere rooms.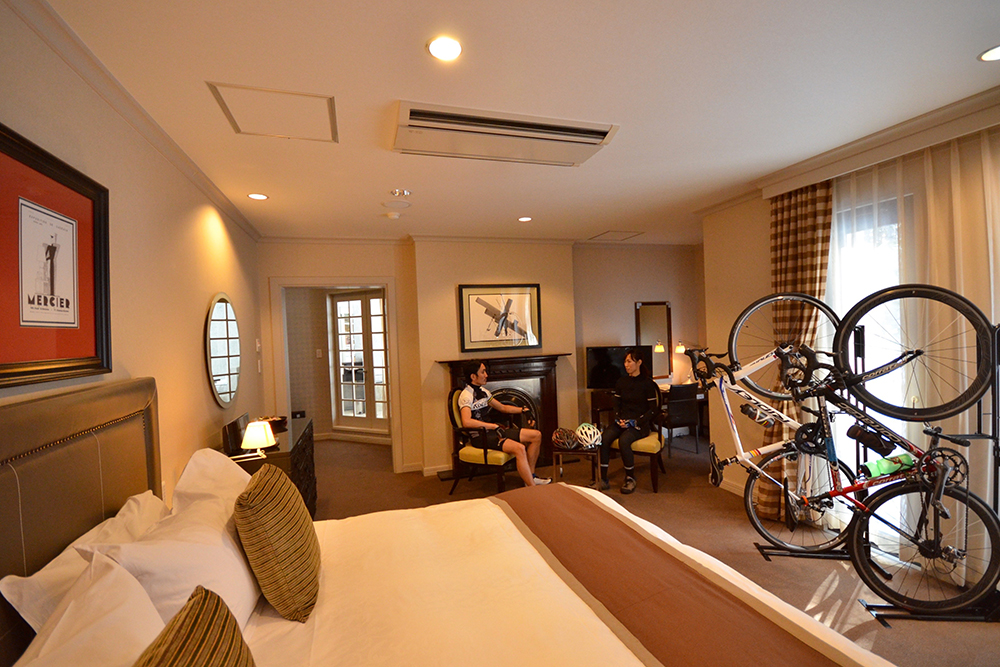 Green and Yellow Stripe Pattern In this room where the wall paper is impressive, it seems that the bikes that use light color shades look good.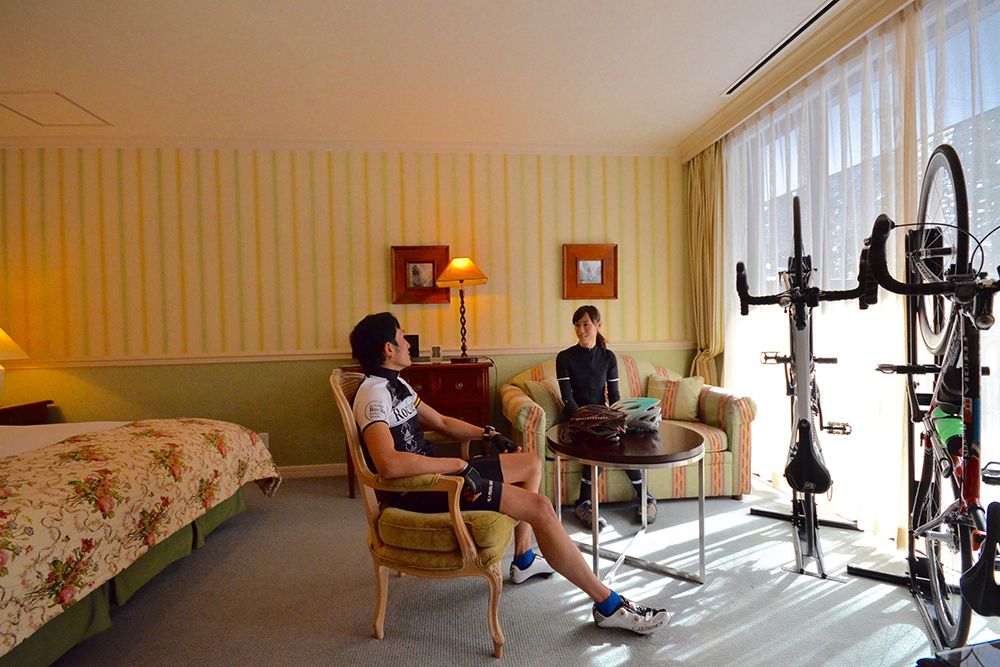 The La Neige East Building also has a Finnish log wood cottage with a large terrace to be built in a quiet grove.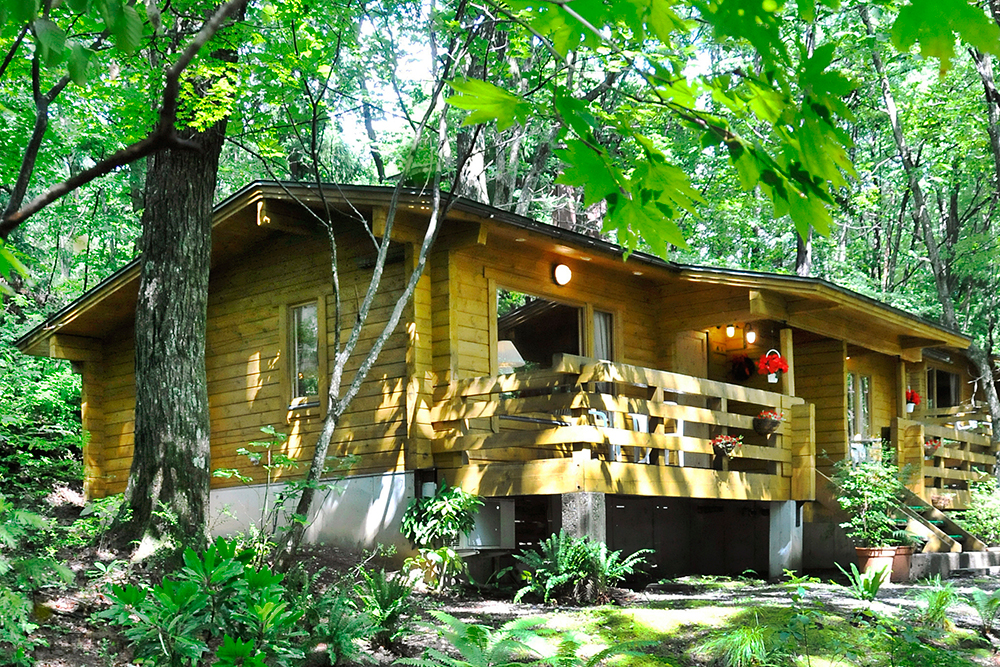 In Log Wood cottage, it is easy and easy to put in and out a bicycle from the room.
It is perfect for a journey to enjoy bicycles with family members and unwilling companions if you have a type with two bedrooms with different tastes in the living room where the contrast with modern furniture is interesting.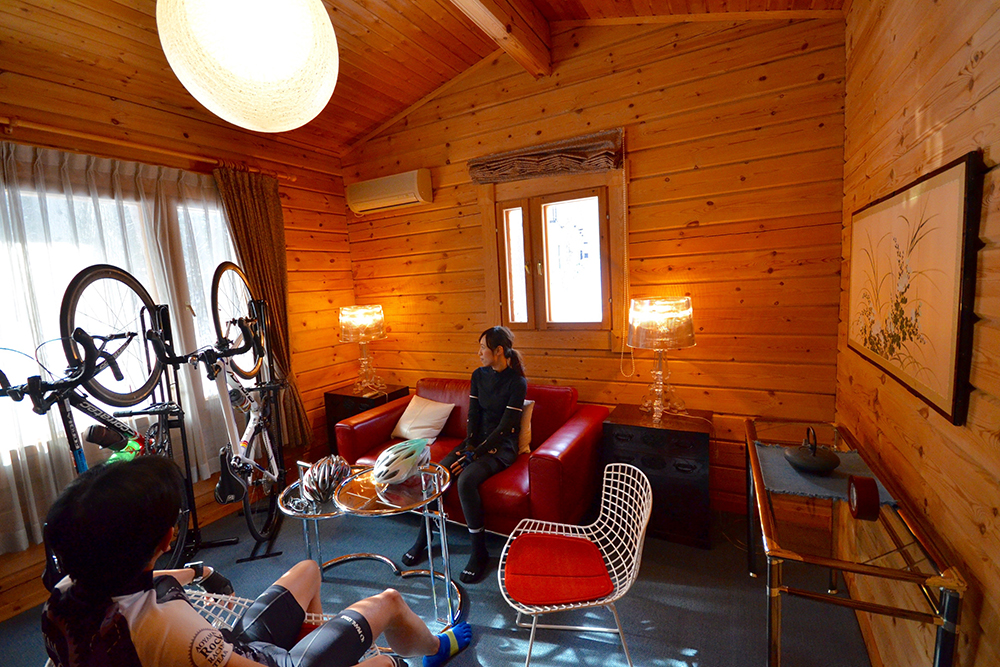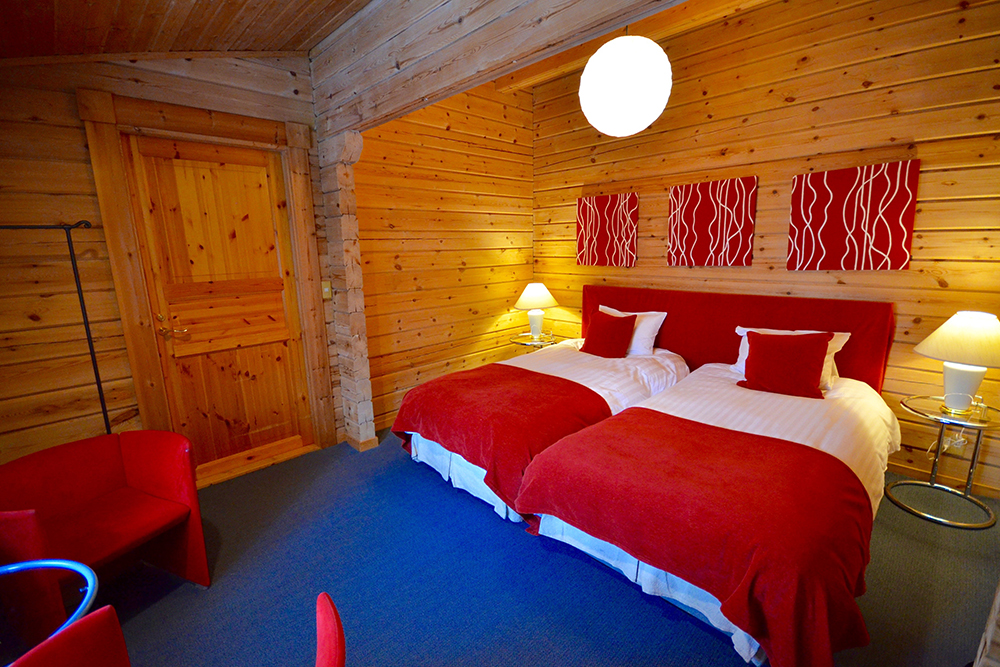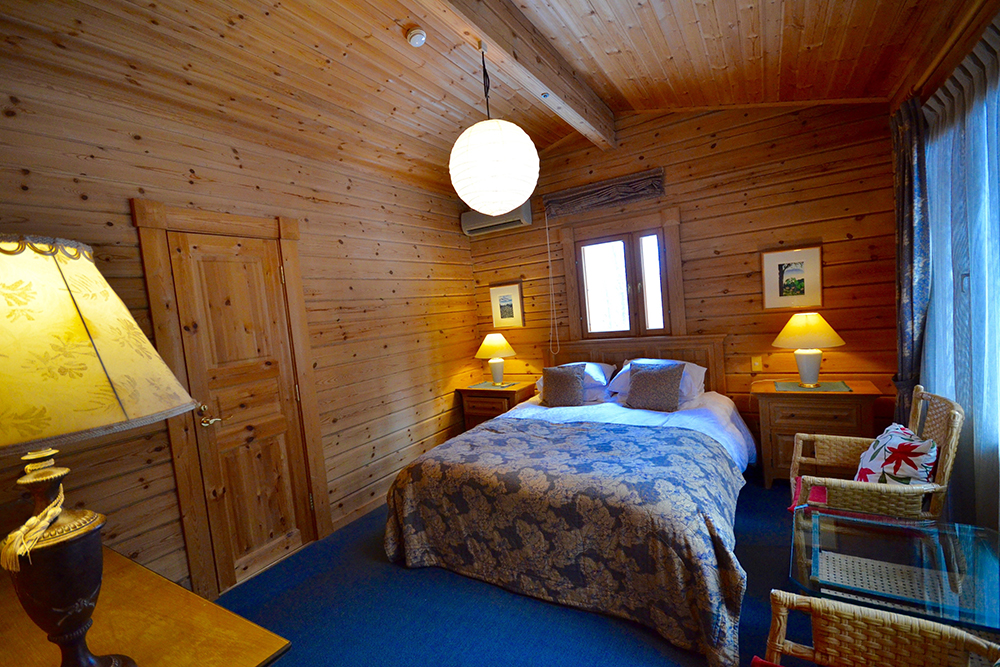 In Log Wood cottage, fully automatic washing machine is installed in the room (only a few cottages), so easy to wash clothes covered with sweat by ride. If you wash it in the evening and dry it, you can wear your favorite wear that became clean the next morning.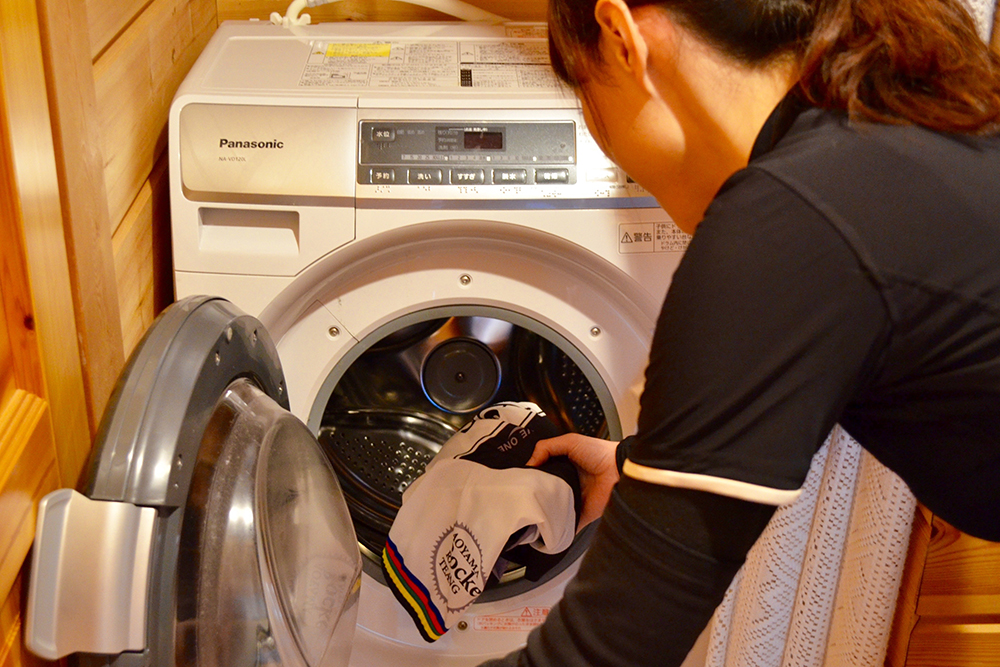 Such a "cyclist welcome" La Neige East building. There is no deficiency in washing service of wear.
Also in the hotel building, a fully automatic washing machine which guests can use for free is prepared in one corner of the basement floor, so it is safe.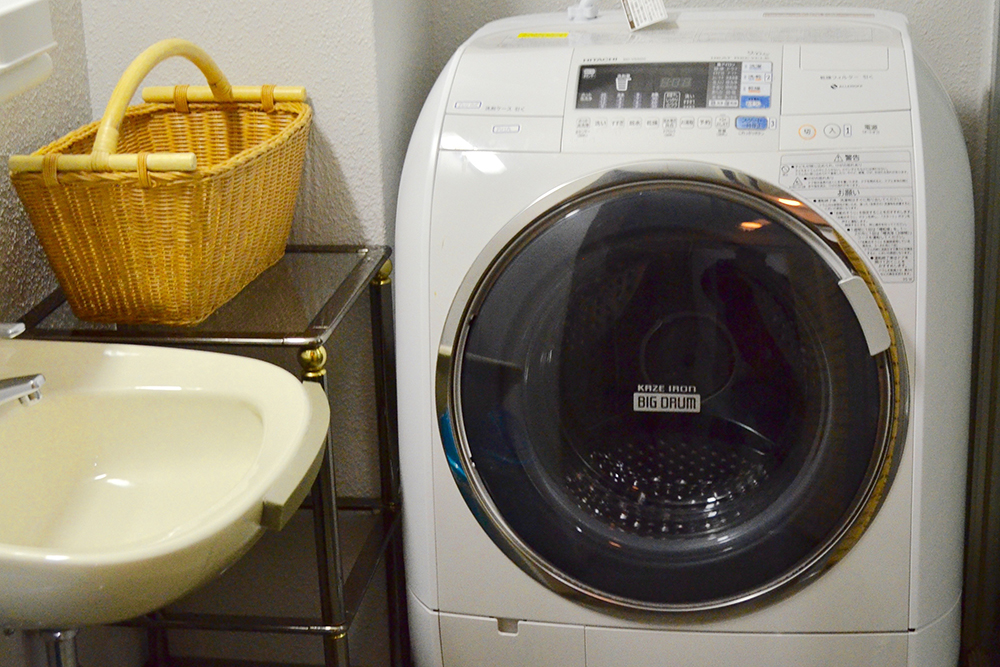 Every room above the Deluxe Room is equipped with a large Jacuzzi bath facing the window, allowing the two adults to relax slowly.
After the ride which enjoyed the mountain and green of Hakuba fully, it is a jacuzzi bath which gently heals the mind and the body, the maintenance time of blissfulness.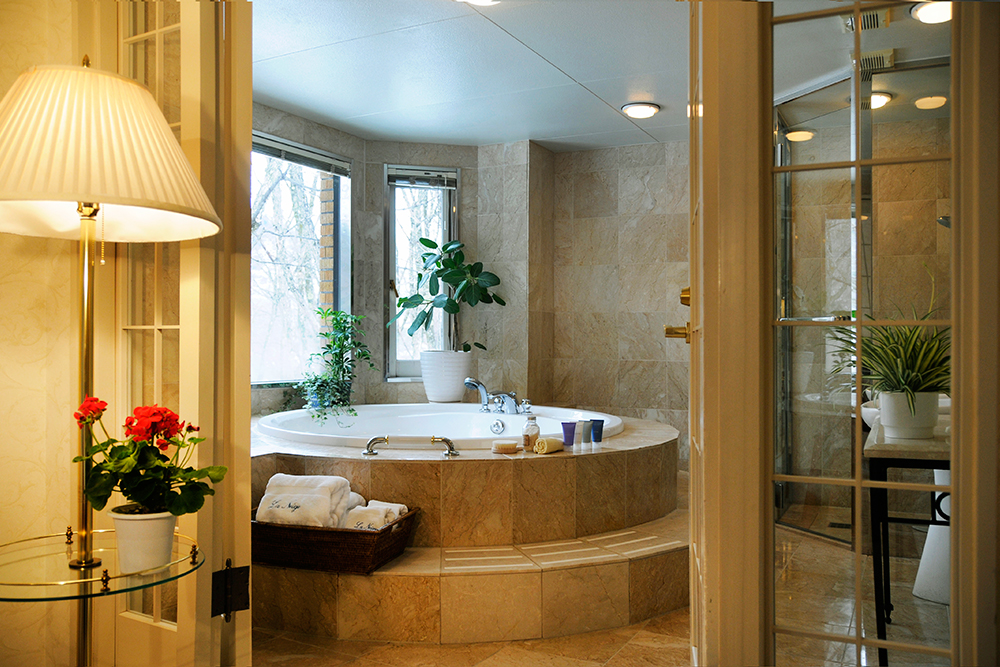 If you are a superior room equipped with an open-air Jacuzzi bath on the terrace that flew into the forest, even if you get off the saddle, relax while enjoying the sense of unity with nature. It will be an irreplaceable time for cyclists who love nature.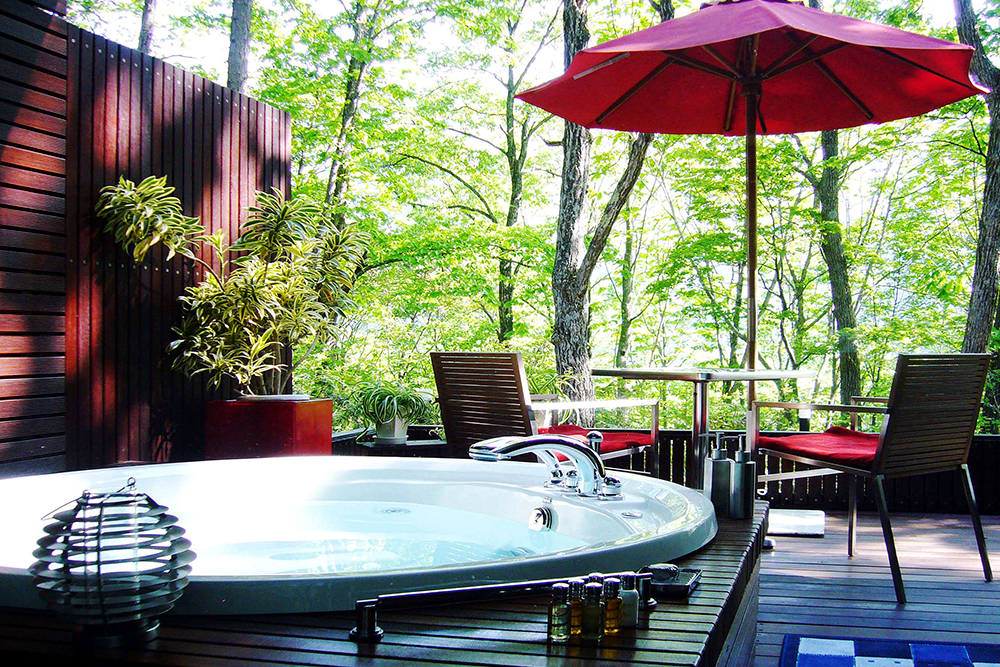 After relaxing the comfortable fatigue of the ride with Jacuzzi, it is an elegant restaurant colored with scenery of the forest and beautiful tableware, a gastronomic moment.
In the 200 item wine list, domestic wine selected carefully by the sommelier restaurant manager visits walking is enriched.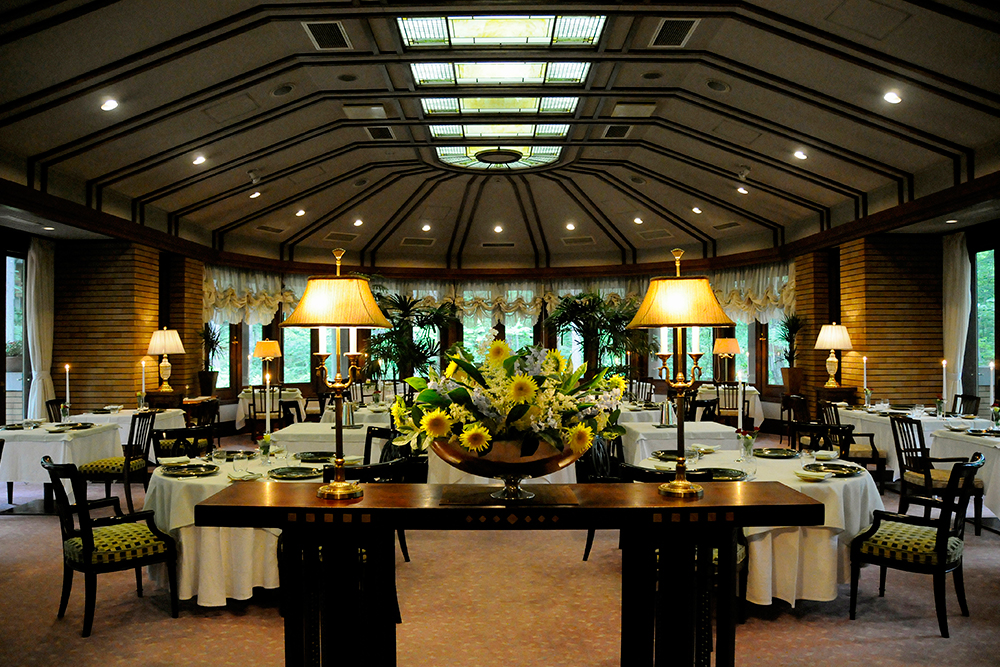 A French cuisine created by a chef who practiced at a French three star restaurant with vegetables from its own vegetable garden and local fresh ingredients brought up by contract farmers in Shinshu. I want to enjoy literally with five senses.
To my surprise, compost made from fallen leaves collected from the vast premises of La Neige Higashi-kan is used to train these local produce. The hotels, farmers, and guests are creating a natural cycle (circulation) through food.
For these points as well, I feel a thorough aesthetic sense of the La Noue East building whose concept is "harmony with nature".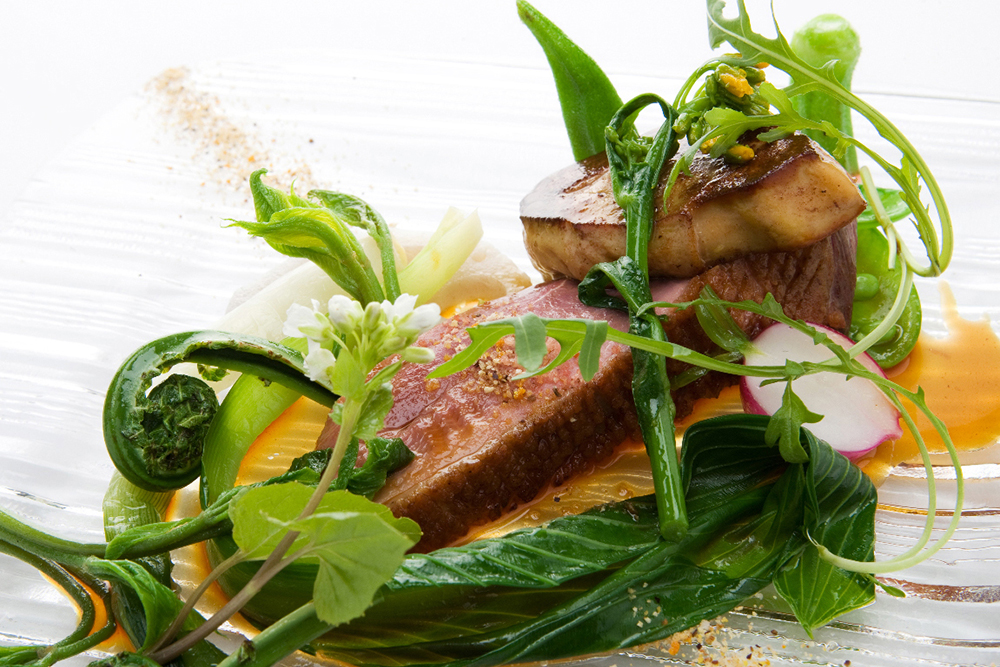 After a meal, I would like to enjoy adult time while thinking about the ride of the next day in a salon bar that creates a calm atmosphere of classical furniture.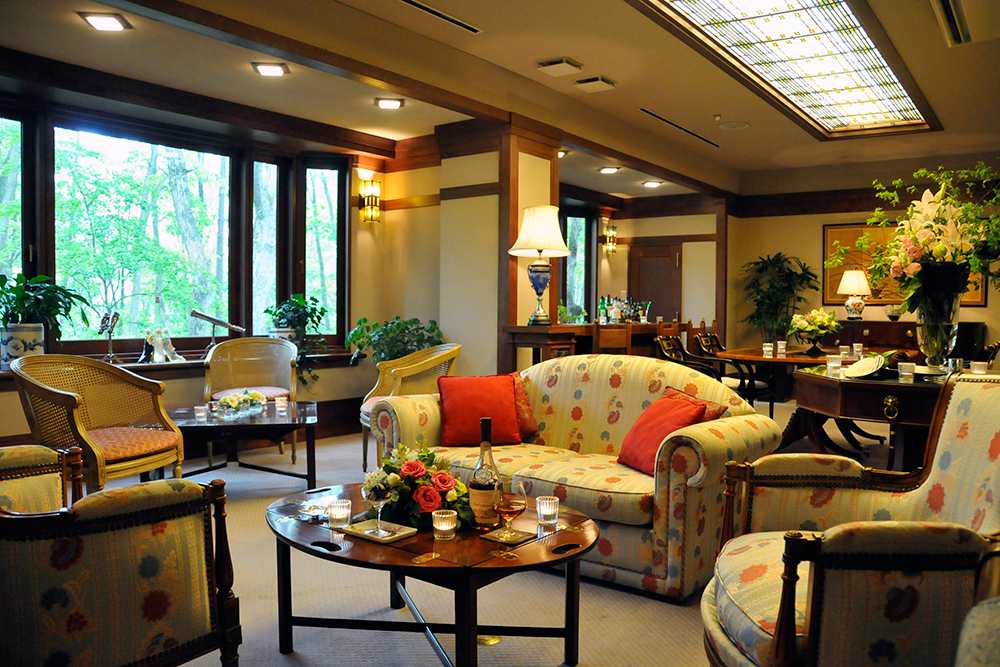 Breakfast is on the terrace of the restaurant that flew into the forest. Birds singing chirping down to BGM, refreshingly, energy charges firmly.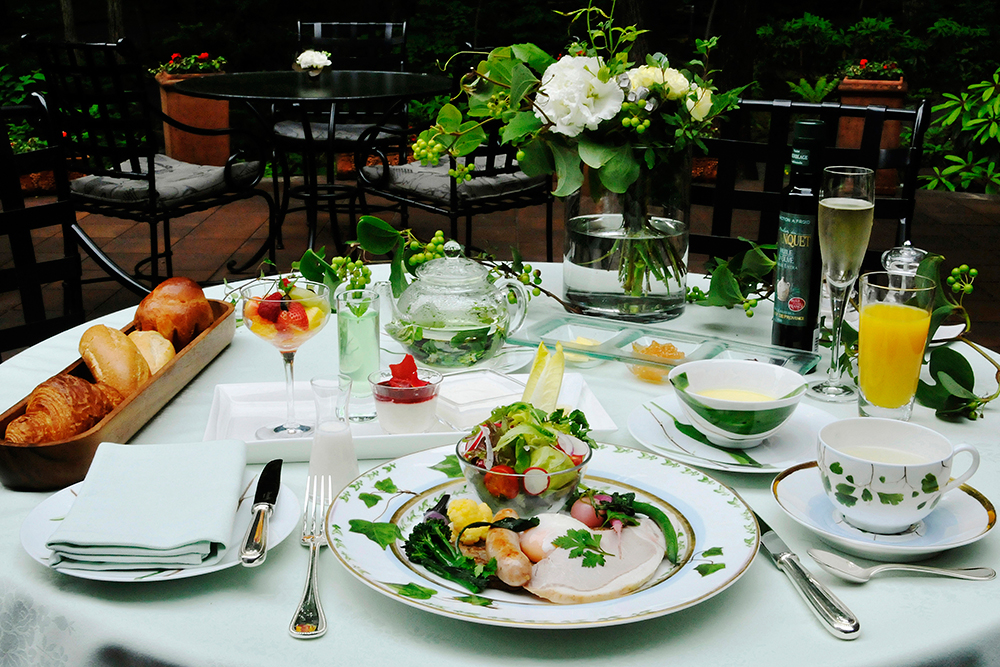 The underground floor of La Neige East Gate is complete with a dedicated shower room that guests can use even after check out. Moreover, is not it wonderful to worry that towels are always available?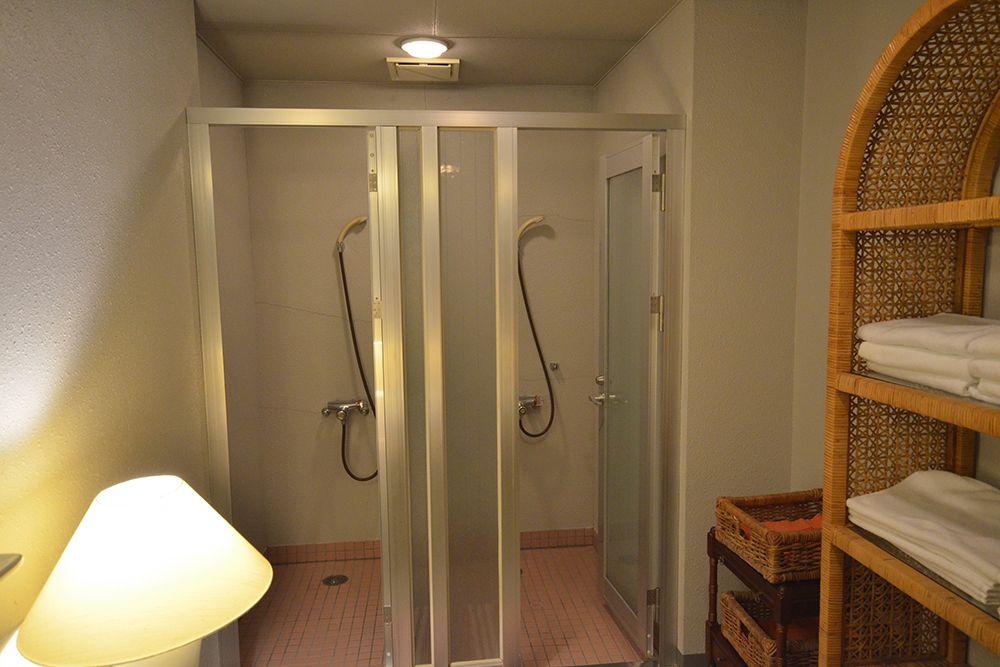 Of course, even after checkout you can keep baggage, so even in a trip, there is no need to run with heavy backpack.
Now, do not worry, let's enjoy the last ride of the trip and let's enjoy it.